Last Updated on Nov 10, 2019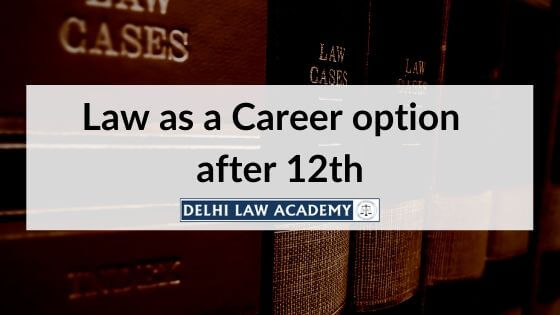 "Law" is the basic part of our constitution. The law education is the only legal education in India. A student who passes this degree is designated a "Lawyer" and this has to be done before entering court activities and practices. In India, the student can pursue the law career after class 12 in any discipline.
Law as a career option is kind of a defamed one. Even after being in one of India's best National Law Universities, people still have notions that just because a person couldn't get through engineering or medical exams, he/she had no other option than to go for Law. But that is clearly not the case anymore.
Studying law is completely different from what it was ten years ago. Thanks to the upcoming National Law Universities in various states (like IITs are to engineering, IIMs are to MBA, NLUs are to Law). Today practicing in court is not the only option left after you complete the law course.
The most advantageous point about this field is that it is not restricted to a specific background of a student in his senior secondary classes. Be it a student having non-medical, medical, commerce, or humanities background; he can comfortably pursue graduation in law.
Common-Law Admission Test (CLAT) is the most prestigious entrance test for getting into eleven National Law Universities. A student from any background can prepare for this test. Thus when you enter into a good law college, you have people from different backgrounds competing with you. This adds different perspectives to your knowledge.
Law is one of the career-oriented courses after 12th. In India, a student can pursue the law career after class 12 or after graduation in any discipline. There are the following degrees of legal education in India.
Bachelor of Laws (LL.B.) – 3 years
LLB is the most common degree of law education. The LLB takes the 3 years as the duration of the course.
Integrated undergraduate degrees – B.A. LL.B., B.Sc. LL.B., BBA LLB, B.Com LL.B – 5 years
One who wishes to do the integrated course can take admission in the 5-year integrated program after the completion of 10+2 exams.
Master of Laws (LL.M.) – one/two years
LLM is a master's degree in legal education having one or two-year duration. It has been started in India before 2012.
Master of Business Law
The MBL is a master's degree in legal education with a specialization in business law having one or two-year duration.
Doctor of Philosophy (Ph.D.)
There is a good prospect for a PhD after legal education. Most of the highly reputed autonomous institution provides the Ph.D. programmes.
Integrated MBL-LLM/ MBA-LLM – 3years
One who wishes to do the integrated course with business specialization can go for the MBL-LLM or MBA-LLM. It is a 3-year degree programme after the completion of the LLB.
3-year LLB vis-à-vis 5-year LLB
In order to understand what the difference between the two courses is we further break them down by a student's choice. Both courses are equally good and they should not be compared in the first place simply because they serve two different audiences. If a candidate is a Class 12 student or has already passed out, he should go for five-year law without giving any thought to the three-year course in the future. There's no doubt that both the three-year and five-year courses should co-exist in an equitable manner; this is in the best interest of legal education and profession.
Eligibility criteria for Law Entrance Exams
Five-year LLB entrance exams: Any student who has passed Class 12 with 50% marks (less 5 % for reserved categories) or has appeared for the Class 12 is eligible to write CLAT and other law entrance exams.
Three-year LLB entrance exams: There is no upper age limit for admission. However, a candidate must be at least 17 years of age on the date of application. A graduation degree with 45% marks (40% for reserved category) is the basic qualification required. Universities like DU and BHU require a minimum of 50% marks while universities like Kurukshetra, Rohtak, Meerut require only 45% marks in graduation.
As per the recent directive by Bar Council of India, applicants who have passed 10+2 or has a graduation degree through distance learning or correspondence mode, will also be considered eligible for admission for the integrated five-year or three year LLB course.
However, applicants who have obtained 10+2 or graduation or post-graduation through open universities system directly without having any basic qualifications for pursuing such studies are not eligible for admission in law courses.
Admission in Law education
The admission process in law programs is not uniform. We have law schools admitting students through national-level law entrance exams like CLAT for National Law Schools/ Universities, LLB Entrance Tests for Delhi University and law colleges admitting students on merit, that is, secured in qualifying examinations.
However, the vast majority of the top law schools admit students through entrance exams only. CLAT for NLUs and LLB Entrance Test for DU could be considered to be the most important law entrance exams of the country for five-year and three-year LLB courses respectively (view table for a listing of major law entrance exams in India).
List of Top Law Universities in India
The top universities in India offering legal education are as the following:
Faculty of Law, University of Delhi
Banaras Hindu University, Varanasi
NALSAR University of Law, Hyderabad
National Law School of India University (NLSIU), Bangalore
Gujarat National Law University (GNLU)
Symbiosis Society's Law College (SSLC), Pune
National Law University, Jodhpur
National Law Institute University (NLIU), Bhopal
ILS Law College, Pune
Government Law College, Mumbai
Amity Law School, Delhi
Aligarh Muslim University, Aligarh
Jobs/Career in Law
Law is a very reputed filed for choose as a career. It is a hard-working and sincere field. A fresher may have to work under the reputed legal firm or lawyer for the initial start of his career. India has a great demand for skilled lawyers as per the survey done by the Bar Council of India. Only 20% of the Indian law students are eligible to work in court.
A law student can be a public prosecutor, solicitor general or a part of private legal firms after gaining experience. The law students can appear the exam conducted by the Public Service Commissions and get the position of Judge. A good lawyer can work in ministry, government departments and various legal advice organizations.
There is a good prospect to work in the UK and the US. The law of India is just similar to the law of the UK. The firms and the UK government offers the Indian students to work with them as legal concern.
In order to the designation, you may be the one out of the following:
Criminal Lawyer
Civil Litigation Lawyer
Legal Analyst
Document Drafting Lawyer
Legal Journalist
Legal Advisor
Government Lawyer
Judge
Salary Structure for a Law Graduate
After having a thorough understanding of the law courses one would be eager to understand the pay scale. A lawyer who wishes to start practicing in a court can get a stipend of Rs 5000 to Rs 40,000 depending upon the advocate he is associated with, a law graduate working with Legal Process Outsourcing receives can earn an attractive salary in the range of Rs 20,000 and Rs 50,000. It is a very high paying profession but depends largely on the caliber, popularity and success of the candidate. The college you graduate from is another factor.
Top Law Recruiters in India
The top recruiting legal firms or associates in the country are as the following:
Amarchand Mangaldas
AZB & Partners
J Sagar Associates
Khaitan & Co
Luthra & Luthra
'Trilegal
Desai & Diwanji
Singhania & Partners
Titus & Co
Wadia Ghandy & Co
Lakshmi Kumaran & Sridharan
Economic Laws Practice
Vaish & Associates
Hope you liked our blog post. For coaching of major law entrances, coaching is offered by the best faculty at Delhi Law Academy. Click on the link below to check the courses offered.