Delhi Law Academy In The News
2017: Prof Madaan is interviewed by News World India on Career Prospects in Law and Judiciary
Prof Madaan was invited by all-India domestic news channel News World India as an expert faculty on their regularly scheduled weekly primetime program 'Success Mantra'. This program is conducted in an interview-cum-call in format, where along with questions from the news anchor, students from all over the country are also able to call the telephone number provided by the show and ask their questions.
Madaan Sir provided able and reliable guidance to the varied questions asked by students, and also added some tips and tricks that most students miss in their preparation.
---
2016: Delhi Law Academy's Students and Faculty are again invited to participate in NDTV Big Fight
DLA Students and Faculty were once again invited by famous TV channel NDTV to participate and share their views on the important topic 'Privacy – A Fundamental Right?'
DLA Faculty and students have become famous and regular invitees in various TV debates and shows due to the balanced and rigorous views they present. Further, a detailed and nuanced understanding of the Indian Legal System and a pragmatic and holistic outlook that they possess tend to be invaluable in rationally assessing and dealing with any topic under debate.
---
2013: DLA Students represent the voice of Indian youth at NDTV Big Fight
A select team of students from the Delhi Law Academy were invited by the NDTV India to its studios at New Delhi to participate in their highly acclaimed show "Big Fight".
The show was anchored by Mr. Vikram Chandra, group CEO of NDTV,  and the panel comprised of Manish Tiwari, Spokesperson Congress, Prakash Javadekar, Spokesperson BJP, Prof. Bhattarcharya, fromer VC JNU and Gurcharan Das, ex-CEO, Procter & Gamble.
The Delhi Law Academy team comprised of its students Adv. Yogender Chauhan, Adv. Deepika Kaushik, Rokovitsu Khate, Misbah-ul-haq, B. Khan, Gowda Patil and Dhananjay Kumar amongst others.
---
2012: Prof Madaan conducted a State-Level Training Program at Gujarat National Law University, Gandhinagar
Prof. Madaan conducted an exclusive program at Gujarat National Law University. This was on the basis of an official invitation by the University itself. The course provided an overview of the Law paper in the Civil Services Main Exam and in various Judicial Service Exams followed by in-depth study with relevant law cases in Family Law, Civil Procedure, Criminal Law and Constitutional Law.
This special 2-day program was inaugurated by Dean, Academic Affairs, GNLU and was concluded the next day by a special address by Prof. Dr. Bimal N Patel, Director, GNLU.
---
2011: Prof. Madaan is awarded Certificate of Appreciation by the Embassy of Mongolia
Hon'ble Chairman, Civil Service Council of Mongolia, Dr. D Zumberellkham, led a High-level Delegation from the State of Mongolia that visited the premises of the Delhi Law Academy.
Prof. Madaan made a special presentation to the visiting dignitaries highlighting the way the Delhi Law Academy has been making singular contributions in guiding students and advocates to get equipped for Civil Service and Judicial Service exams in India.
The visiting dignitaries presented Prof. Madaan with a Certificate of Appreciation for being instrumental in training the future law makers and Judges of India.
---
2010: Prof. Madaan is awarded by the Hon'ble Chief Justice of India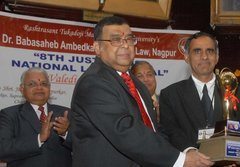 Prof. Madaan, Founder, Delhi Law Academy, won the Best Speaker Trophy at the 8th Justa Causa National Law Festival in Nagpur. He was awarded the trophy by the Chief Guest, Hon'ble Justice Altamas Kabir, ex-Chief Justice of India.
The Justa Causa National Law Festival is an annual event to which aims to strengthen and sharpen the advocacy and research skills of lawyers around the country.
---