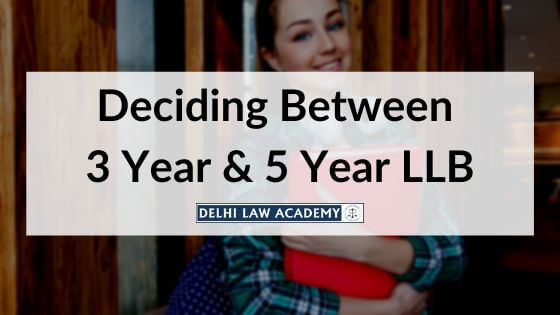 Last Updated on Nov 14, 2019
Of late, law degrees have become highly sought-after. The surge comes as no surprise – a position in the legal sector is well-respected, and study leading up to it isn't just cramming statutes and cases, but one that deepens the experience and strengthens understanding of many aspects of human life. A lawyer is no longer seen as just some black-robed person. Any professional who wishes to strengthen and make more appealing his resume could get a law degree.
The other category of people that could aim for a Legum Baccalaureus ("LLB" -Bachelor of Laws) is the high school pass outs. On these lines, The Bar Council of India confers two variants of the degree on successful completion of the respective course: One, an LLB degree for a three-year course or two, a B.A. LL.B., BBA. LLB., B.Com. LL.B or a B.Sc. LL.B. for a five-year program. And that's the paradox of choice – which one is better?
The three-year LLB degree covers only law subjects and is offered by few universities despite being quite popular.
If you consider the purpose they serve, the answer is simple. If the candidate has just finished Class 12, he should choose the integrated five-year degree, which is basically a dual degree program.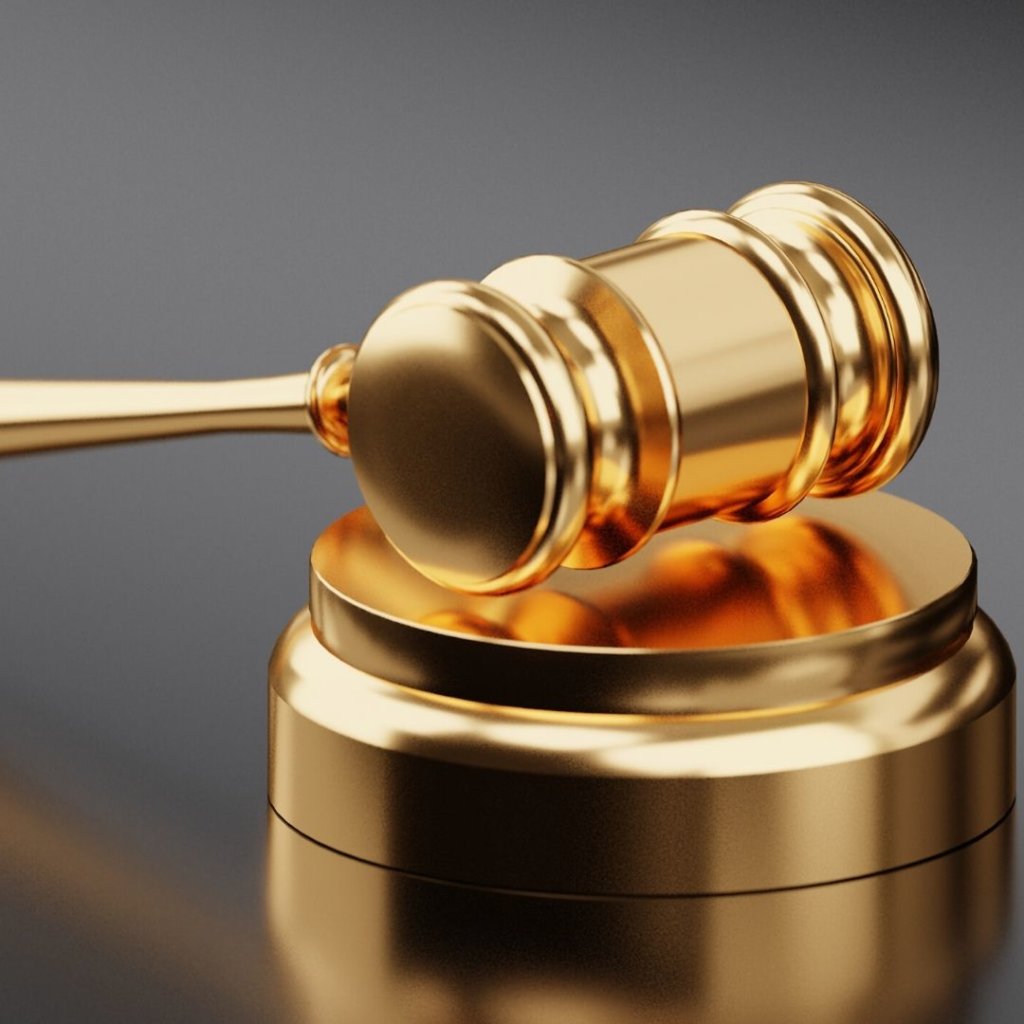 It covers both law subjects and subjects from either a B.A., BBA., B.Com., or B.Sc degree, depending on the choice of institution and personal preference. On the other hand, if the candidate already has an undergraduate degree, but wishes to go into the legal profession or just wants to add value to his previous degree, he should go for the three-year course. Let's look at other ways these degrees differ, and the course of action to pursue respective degree:
Three-year LL.B.
The three-year LLB degree covers only law subjects and is offered by few universities despite being quite popular. A very prevalent lackadaisical attitude amongst professionals studying law is often quoted as the reason for this. The course covers both theoretical and practical aspects of law, and is in no way relaxed – there is a minimum compulsory attendance percentage, and the course is interlaced with assignments. Professionals who would like to work in the judiciary, litigation, civil services or academics department form most of the aspirants.
Eligibility
The old rule was that only a person with a graduate degree could apply. However, now, applicants who have completed 10+2 through correspondence or distance-learning (but not through the open university system directly) are considered eligible. While there are law colleges that admit students on the basis of marks secured in their qualifying degree, a vast majority of top universities admit students through entrance exams only.
Top Colleges and Entrance Exams
Faculty of Law, DU and Faculty of Law, Banaras Hindu University (BHU) are top universities that offer the three-year LLB course. A graduation degree with 50% marks is the basic qualification required. They both have their separate entrances: the DU LLB and the BHU LLB respectively. PU-LL.B. is another entrance for select law universities in Punjab. ExamVictor offers mock tests, online courses and distant learning courses for these exams that extensively cover the syllabus.
There are also quite a few notable universities (like Jindal Global Law School, IIT Kharagpur) that accept Law School Admission Test (LSAT) scores. This pen and paper test has four sections that need to be completed within 2 hours and 20 minutes (strictly thirty-five minutes each).
Admission to four government and a few self-financed private law colleges in Kerala is done on the basis of merit in the entrance exam conducted by CEE, which is typically in September. This is a three-hour paper with questions based on General Knowledge, Aptitude for Legal Studies and General English.
Admission to every government law college in Maharashtra is through the online MAH CET conducted by the DHE, usually in June.
Five-year LL.B.
The five-year integrated undergraduate degree was offered for the first time by the National Law School of India University (NLS) in Bangalore as B.A., LL.B. (Honours) degree. Now, much more government and private colleges offer a five-year degree and the options have gone from just offering arts (B.A.) as the second stream to be able to choose to study either Commerce (B.Com.), management (BBA) or even science subjects (B.Sc.) the first three years.
The fourth and fifth years would be common to all and is all about law. Ordinarily, getting the two degrees would require 6 years, but with the integrated program in place, a student will be saving one year. So it's no surprise that most law universities choose to offer this course instead of the three-year one. The degree has quite a good scope and offers good exposure, too. Completing the degree at an NLU can place the student in international law firms, better consulting departments and legal departments.
Eligibility
Candidates should have completed 10+2 or equivalent from a recognized Indian or foreign school with at least a 45% (for most exams) to be allowed to write the entrance exams. Students who have obtained 10+2 from Open Universities are not considered eligible.
Ordinarily, getting the two degrees would require 6 years, but with the integrated program in place, a student will be saving one year. So it's no surprise that most law universities choose to offer this course instead of the three-year one.
Top Colleges and Entrance Exams
The most significant exam to pursue a five-year degree in a reputed college is through the Common Law Admission Test (CLAT). At least seventeen National Law Universities (NLUs) and many more private colleges accept CLAT scores. It tests the candidate on five areas in a two-hour paper: Elementary Mathematics or Numerical Ability, English with Comprehension, General knowledge and Current Affairs, Legal Aptitude and Logical reasoning. Another exam that has a similar pattern (but for significantly fewer seats) is the All India Law Entrance Test (AILET).
Both these exams have really stiff competition, and it is necessary to start preparation early to have an edge over everybody else. ExamVictor offers both Postal and Online courses for the 2017 and 2018 exam, and these include, but are not limited to, hours of study lectures and mock papers.
The same areas (as that of CLAT and AILET) are tested in another newly-introduced law entrance exam, the MAH Law CET. Recognized colleges in Maharashtra consider the scores of this online test. ExamVictor offers a different Postal and Online course that covers this curriculum effectively to study at your convenience.
CEE Kerala also conducts an entrance exam in August for admission to government colleges in Kerala for this five-year course. Another important exam for admission to over forty law colleges in the LSAT-India, which tests reading and reasoning skills, and not memorization power.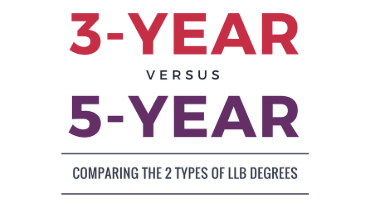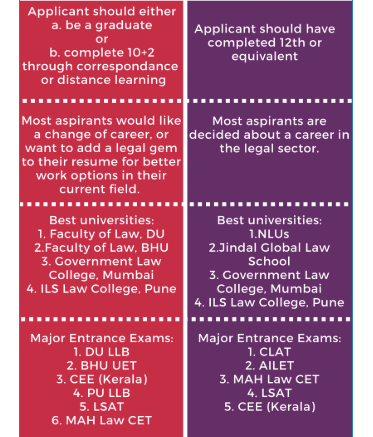 Summary
This blog included all the necessary information related to all the major 3 year and 5 year Law Entrance Exams in our country. Do not forget to share your views in the comment section below. Also, for Online Coaching for the Entrance Exams, click here.