Complete Study Material
for LLM Entrance Exams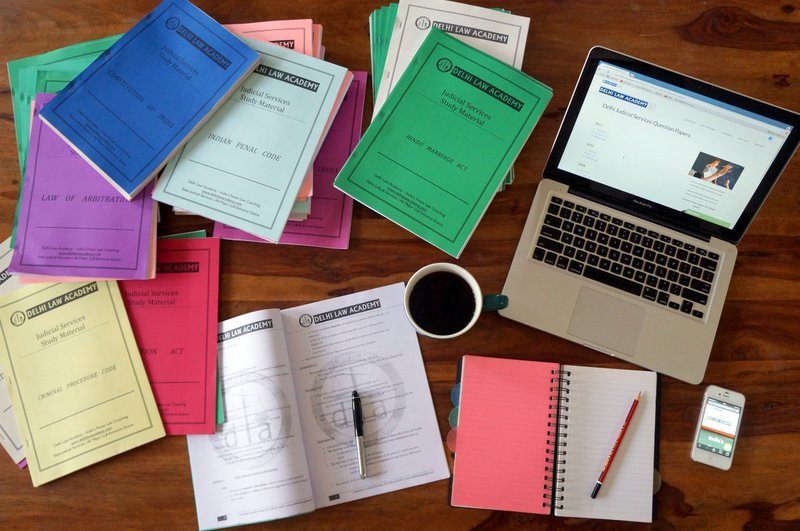 ---
Delhi Law Academy now offers its famous Study Material and Notes for LLM Entrance exams.
Useful for all LLM entrance exams.
Each page of these notes has been prepared by Madan Sir himself. DLA's Notes are far better than any other study material or textbooks available in the market.
JURISPRUDENCE and Environmental Laws Notes are finally available.
We are thankful to Prof. Madan for the same.
Features of LLM Entrance Study Material
---
Full-Syllabus
---
Concise and selective Notes on all Law subjects
Summarized version of important Supreme Court and Privy Council cases
Additional material on English, GK and current affairs
Expertly Crafted
---
Each page of the notes has been created by Prof. Madan himself
Presentation in a fresh and unique style
Convenient
---
The material has been condensed to save students their precious preparation time
Can be accessed 24×7 online or delivered to doorstep in printed form
1. Jurisprudence
2. Constitution of India
3. Indian Penal Code
4. Criminal Procedure Code
5. Civil Procedure Code
6. Indian Evidence Act
7. Limitation Act
8. Law of Arbitration
9. Specific Relief Act
10. Indian Partnership Act
11. Indian Contract Act
12. Environment (Protection) Act
13. Water (Prevention & Control of Pollution) Act
14. Forest (Conservation) Act
15. Wild Life (Protection) Act
16. Registration Act
17. Sale of Goods Act
18. Hindu Marriage Act
19. Other Hindu Laws
20. Muslim Law
21. Law of Torts
22. Transfer of Property Act
23. English
24. General Knowledge
25. Current Affairs [Online] 26. Past Papers [Solved] [CLAT, DU] Online]
The study material is available in two different packs: Basic and Advanced. Both cover all the subjects listed above except Jurisprudence which is available only in the Advanced pack. Moreover, the Advanced Pack is more comprehensive, in as much as it contains more comments, more explanatory notes from our expert and a much larger number of summarized case laws.
Advanced Pack Content:
2200 pages of study material covering all these subjects
Over 300 Supreme Court and Privy Council cases; each condensed into 2-4 pages by Prof. Madan himself
Simplified rendering of all important sections of all statutes
Prof. Madan's expert comments on important sections of all statutes
Constitution updated, incorporating all Amendments, including the latest 101st Amendment Act of 2016 and the 123rd Amendment Bill of April 2017
The Law of Arbitration has been completely overhauled, fully incorporating the Amendment Act of 2015
IPC, CrPC and Evidence Act updated, incorporating all amendments made by the Criminal Laws Amendment Act of 2013 and the Mental Healthcare Act of April 2017
Basic


Basic Pack:

Rs 16,990




---



Basic Pack + Test Series:

Rs 19,990



---
Buy Now
Advanced


Advanced Pack:

Rs 26,990




---



Advanced Pack + Test Series:

Rs 29,990



---
Buy Now
More Questions?
---
You can use the chat box in the right corner to ask us a question during business hours, or email/call us.
Email: contactus@delhilawacademy.com
Phone: 9911916552