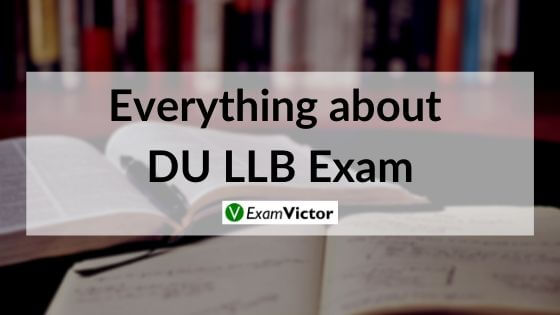 Delhi University conducts DU LLB Entrance Exam to shortlist aspirants for admission in LLB programs offered by it. Delhi University has Campus Law Centre, Law Centre-I and Law Centre-II which offer 3 year LLB Courses.
The Faculty of Law, University of Delhi is currently offering 3 years after graduation LL.B. course. Any person with a Graduate / Post Graduate Degree from any Indian or Foreign University recognized as equivalent by the University of Delhi with 50% marks for General in the aggregate, 40% marks for the SC/ST is eligible to appear in the entrance examination. But, an aspirant should not be less than 21 years of age and there is no upper limit to age.
SYLLABUS
DU LLB Entrance Exam has Objective Type Questions from the following sections:
Analytical and Logical Reasoning
Legal Awareness and Aptitude
English Language and Comprehension
Current Affairs
General Knowledge
Quantitative Aptitude
The questions from Analytical and Logical Reasoning are based on data and usage, Coding- decoding, relations, directions, make a meaningful word from jumbled words are other important areas.
Maximum questions are from Legal Awareness and Aptitude. Current legal knowledge, questions based on Principle and Reasoning, Constitution (fundamental rights and duties, powers of President, Vice-President, Governor and Prime Minister, Loksabha, Rajya Sabha), headquarters of famous organizations across the world, basics of criminal and civil law, Law of tort.
The questions from the English language and comprehension section including reading comprehension, idioms and phrases, antonyms, synonyms, one-word substitute, jumbled sentences, the odd one out and more.
Current Affairs are mostly from the last year.
The questions from the General Knowledge section cover history, geography, economics, literature, science and more. 
The questions from Quantitative Aptitude which includes preliminary maths (up to 10th standard). Questions from Speed and distance, Profit/Loss, Average, Ratio are the most frequently asked.
There are around 20 questions from Analytical and Logical Reasoning. 5 out of these questions are based on data and usage. Coding- decoding, relations, directions, make a meaningful word from jumbled words are other important areas.
EXAM PATTERN:
There is a total of 175 questions that are to be solved in 120 minutes. For each correct answer, 4 marks are rewarded and 1 mark is deducted for every wrong answer. 15 minutes go towards filling the OMR sheet and other formalities, so basically one has 105 minutes in hands to solve all the 175 questions i.e. 35 seconds for each question.
Best way to prepare for DU law entrance exam
There is no particular time to start the preparation. It's never too late since you have to pay special attention to your English language, correct logic and quick comprehending ability. However one should start little beforehand, 3- 4 months' time is enough to cover the entire syllabus if you are studying with full concentration. One should be well aware of not only the pattern but also the nature of the exam. For instance, current affairs are not what is to be focused rather Static GK should be paid special attention. More than 90 questions are from Legal Awareness and Aptitude, so this area has to be paid special attention.
The best way to prepare Static GK is to solve every question from god sources of CLAT and LL.B.
Don't miss to solve past year's entrance papers, a minimum of 50 questions are repeated every year.
You need to master three areas in the English section:
Vocabulary
Grammar & Sentence Correction
Reading Comprehension
Building vocabulary on a daily basis from every possible source is important i.e. from your daily newspaper to your textbooks. Similarly, doing some grammar and sentence correction exercise daily is important from any good book or online sources. For mastering comprehension, reading habits, as well as practice from papers given in the aforementioned books, is needed. A two-month plan working two-hours daily on English can do the magic even for students of non-English medium.
Also, to cover Current Affairs do not blindly follow IAS level books rather go for some good online digests. We provide a monthly digest that covers all the important areas related to the exam under each section.
As the pattern of the DU LL.B. exam keeps on changing and is highly unpredictable, students must solve at least a few exercises from all types of reasoning questions to be on the safer side.
Is it necessary to take coaching for the DU exam? What are the best coaching centres?
It is not at all required to join any coaching to crack DU Law Entrance Exam. A planned study of 4 to 6 months of intensive preparation is sufficient to pass the DU Law Entrance Exam. 5-6 hours of focussed study every day is required. Candidates must make a plan to study at least 2 subjects every day and have at least one vocabulary/English and one reasoning exercise daily. Reading a good newspaper like The Hindu and taking note of important points is important. For revision, The Hindu Diary of Events and other GK Compendiums could be referred. Students may also trust Universal's Guide to LL.B. and Universal's book on Legal GK.
It's advisable for every law aspirant to get past papers of CLAT and DU to solve past year question papers to get a fair idea of the exam. This is the best way for ensuring time-management in the exam and getting the right amount of confidence to crack the exam under strict time-limit and exam conditions.
A good distance learning course can make a huge difference to your preparations like we at DLA provide the best course with zero commuting cost and effort. Students can study online anytime they want.
Delhi Law Academy: Delhi Law Academy offers an online crash course for DU Law Entrance Exam. Test series are also available. The details are available here in the link.
Hope this information was helpful to you. Do share your comments in the section below.