Rajasthani Language
• Rajasthani is name given to group of dialects spoken in Rajasthan.
• Recognized as a distinct literary language by Sahitya Academy (National Academy of letters) & University Grants Commission (UGC).
• Script – Devanagri
• 10 vowels and 31 consonants; two genders
• Fund of folk literature consisting of ballads, songs, proverbs, folk tales and panegyrics.
• In 2003 the Rajasthan Legislative Assembly – passed a unanimous resolution to insert recognition of Rajasthani into the Eighth Schedule of the Constitution of India. Present Status: Not included.
• Reasons for less propagation: lack of comprehensive reference grammar and latest dictionary prepared based on a thorough linguistic survey of Rajasthan.
History & Evolution of Rajasthani language:
• Rajasthani is an Indo-Aryan language having its roots in Vedic Sanskrit and Sauraseni Prakrit.
• Suaraseni Prakrit – initially language of Mathura region – spread westwards (towards modern Gujarat & Saurashtra) and developed modification and called Gurjara Apabhramsa or Gurjari
• From Gurjari developed Maru-Gurjar, a common language of Rajasthan & Gujarat. It started taking definite linguistic pattern from 1050 AD.
• From 1450, Rajasthani & Gujarati, started to get differentiate and in subsequent centuries distinct Rajasthani language (Maru-Bhasha or Dingal) developed.
• In eastern region Dingal mixed with Braj-bhasha of Mathura and formed Pingal
• While Dingal was used for composing songs for war & ceremonies, Pingal was used for composing poems of love & devotional nature.
• The use of Dingle & Pingal continued freely for 4 centuries (15h-19h) but from 1818 Rajasthani language declined.
Dialects of Rajasthani:
Marwari
• Most spoken dialect of Rajasthan
• Region: Jodhpur, Jaisalmer, Bikaner, Nagaur, Shekhawati & Sirohi
Mewari
• Mewar region: Udaipur, Bhilwara & surrounding region.
Dhundhari
• Second most spoken dialect of Rajasthan
• Region: Dhundhar – Jaipur, Tonk, Kishangarh-Ajmer
Mewati
• Mewat Region: Alwar, Bharatpur, Dhaulpur & Karauli region
Hadauti
• Region: Bundi, Kota, Tonk
• Suryamal Mishran composed in Hadauti dialect.
Malvi
• Region: Near to Malwa of MP – Kota, Jhalawar & Pratapgarh
Bagri(Bagdi)
• Bagar Region: Banswara & Dungarpur
• Influenced by Gujrati
Nimadi
• North Nimach and Banswara Bhili
• Spoken by Bhils – Dungarpur Ahirwati
• Dialect of junction area of Bangru(Haryanavi) & Mewati.
• Region: Behror, Kothputli (Alwar)
• Historically called as Rath or Rathi dialect.
***Other Rajasthani Dialects are Dhatki, Godwari, Gujari, Gurgula, Goaria and Lambadi.
Sahitya Academy Winners for Rajasthani:
2015 Gawaad (Novel) Madhu Acharya 'Ashawadi'
2014 Sundar Nain Sudha Rampal Singh Rajpurohit
1975 Pagfero (Poetry) Mani Madhukar
1974 Batan Ri Phulwari Vol. X (Folk-tales) Vijaydan Detha
Note: The Sahitya Akademi Award is a literary honour, which the Sahitya Akademi, the National Academy of Letters, annually confers on writers of the most outstanding books of literary merit published in any of the 24 languages (i.e. English, Rajasthani, and the 22 listed languages in the Eighth Schedule of the Constitution)
Literature of Rajasthan
"Literature in Rajasthan" means all the literature works that have been created within geographical boundary of Rajasthan from start of time till now.
It includes
• Sanskrit & Prakrit Literature
• Rajasthani Literature
• Hindi Literature
1. Early Period (1100-1450)
2. Medieval Period (1450-1850)
3. Modern Period (1850-present)
1. Sanskrit & Prakrit Literature of Rajasthan:
• Astronomer and mathematician Brahmagupta belonging to Bhinmal (Jalore) composed Brahsfut Siddhanta.
• Poet Magha, who also belonged to Bhinmal, wrote Shishupal Vadh
• Hari Bhadra Suri of Chittor wrote Samaraichcha Katha
• Udhyotan Suri wrote Kuvalaya Mala partly in Prakrit & partly in Aprabransh
• Vigrah Raj Chauhan IV of Ajmer wrote the drama Harikeli
• Somdeva, court-poet of Vigrah Raj, wrote the drama Lalit Vigrah Raj
• Court poet of Prithviraj Chauhan III wrote Prithvi Raj Vijay
• Maharana Kumbha wrote treatise of Jai Deva's Geet Govinda and a book on musicology – Sangeet Raj.
2. Rajasthani Literature
Rajasthani Literature dates back to the early 11th century, with the development of Maru-Gurjari as a language.
I. On the basis of time, Rajasthani Literature cane be divided into:
1. Early Period (1100-1450)
2. Medieval Period (1450-1850)
3. Modern Period (1850-present)
II. On the basis of distinct forms, Rajasthani Literature can be divided into:
1. Rajasthani Jain Literature
2. Rajasthani Charan Literature
3. Rajasthani Saint Literature
4. Rajasthani Folk Literature
Now, we shall first discuss in detail, Rajasthani Literature division on basis of time.
I.1 The Early Period of Rajasthani Literature (1100 -1450)
• Till 1169, Rajasthani language was essentially oral and so significant literature works does not exist before 1169 AD. Hence, the early period of Rajasthan Literature begins from 11th Century and continues till 1450 AD.
• This early period was dominated by Jain Scholars, Acharyas & Monks and important works include:
o Bharatvarsh and Bahubali Ghor written by Vijrasen Suri
o Bharateshwar Bhaubali Raas authored by Shalibhadra Suri
o Jiyadarya Raas by Asig
o Padmavati Chaupai by Jinprabha Suri
o Stulibhadra Phag by Hemraj Suri
• Non- Jain works
o Prithviraj Raso by Chandbardai – 12th Century
o Achaldas Khichi ri Vachanika by Gadan Shivdas
o Visaldeo raas by Narpati Nath
o Ranmall Chanda by Shridhan
• The literature works belonging to early period are common heritage of Rajasthani and Old- Gujarati.
I.2 The Medieval Period of Rajasthani Literature (1450-1850)
• The medieval period of Rajasthani literature starts from 1450 and continues till 1850. The period is considered as Golden age of Rajasthani language and literature, based on the amount and variety of text written.
o 1455 – Padmanabh wrote Kanhad de Prabandh – regarded as the link between Gujarati and separated Rajasthani.
• The work is considered as an encyclopaedia of life in Rajasthan during those times.
o 1473 – Dhola Maru ra Doha was composed by Kallol.
o 1568 – Buddhi Raso written by Jallah
o 17th Century – Khuman raso written by Dalpat
o Halan Jhalan ra Kundaliya written by Baraith Isardas.
I.3 The Modern Period of Rajasthani Literature (1850-1950)
• This includes literature works in Rajasthani written after 1850.
• The main difficulty in surveying Rajasthani Literature is that a large number of literary works have remained unpublished.
• The traditional heroic poetry consisting of Kavya & Raso declined by end of 18th century.
• In middle of 19th century, Surya Mal Mishran of Bundi (also called as Bhushan of Rajasthan) attempted to revive heroic poetry and wrote Vansh Bhaskar & Veer Satsai.
• Another great poet of the same period was Ramnath Kaviya of Alwar who wrote Draupadi Vinaya & Pabuji ra Soratha.
• Maharaja Chatur Singh translated Geeta and Patanjali's Yogasutra into Mewari language.
• Chandra Singh wrote Kah-Mukrani & the famous book – Badli in 1940.
• Meghraj Mukul composed poem Sainani.
3. Hindi Literature of Rajasthan:
• The National movement gave new life to literature in Rajasthan and large number of poets and writers expressed the anger of the people against British rule.
• The poets also reprimanded Rajput rulers of their suicidal policies.
• Important writers of this period included Surya Mal Mishran, Girvardhan, Bhopaldan, and Keshri Sibh Barhat
Now, we shall first discuss in detail, Rajasthani Literature division on the basis of distinct forms
II.1 Rajasthani Jain Literature.
The literature is related to Jain Religion.
• Hemchandra Suri – Deshinaammala, Shabdanushasan
• Hrishivardhan Suri – Nal Damyanti Raas
• Hemratna Suri – Gora Badal ri Chaupayi
II.2 Rajasthani Charan Literature
• Lifestyle & Valor of Rajput era is represented beautifully by Charan literature,
o Badar Dhaadhi – wrote Veer Bhayan
o Chandbardayi – wrote Prithviraj Raso
o Nainsi wrote – Nainsiri Khyat
o Baankidas – Baankidas ri Khyat
o Dayaldas – Dayaldas ri Khyat
o Achaldas Khichi ri Vachanika by Kavi Shivdas Gaadan
• Prithviraj Rathore (Bikaner) wrote Veli Krishan Rukamani ri
• Surajmal Misrana (1815-68) – State Poet of Bundi, wrote
o Vansh Bhaskar
o Vir Satsai
o Balwant Vilas
o Chhandomayush
II.3. Rajasthani Saint Literature:
• Meera ki Padavali
• Daddu ki Vaani
• Narsingji ro Maheero
• Ram Charan ji ki Vaani
II.4 Rajasthani Folk Literature:
• Phad Literature
o Shahpura in Bhilwara is famous for Phad
o Events from life of Lok Devtas like Pabuji, Dev Narayan ji, Ramdev ji etc are depicted in Phad.
o Padam Shri awardee Shree Lal Joshi from Bhilwara – gave international recognition to Phad
Major Literary Compositions of Rajasthan
| | |
| --- | --- |
| Work | Author |
| Kanhad-de-Prabandh | Padmanabh |
| Munhot Nainsi Ri Khyat | Munhot Nainsi |
| Achaldas Kheechi Ri Bachnika | Shivdaas Gadan |
| Ganga Lahari | Prthivi Raj Rathore |
| Varagya Sagar | Nagaridaas |
| Roothi Rani | Kesari Singh Barhat |
| Raj Rupak | Veerbhan |
| Rao Jaitsi Ro Chhand | Suja ji |
| Dayaldas Ri Khyaat | Dayaldas Sidayach |
| Vansh Bhaskar, Veer Satsai | Suryamal Mishran |
| Leeltans, Patal & Peethal, Dharti Dhora Ri | Kanhaiyalal Sethia |
| Prithviraj Raso | Chand Bardai |
| Bisaldev Raso | Narpati Nalha |
| Hammir Raso, Hammir Kavya | Jodhraj Sarangdev |
| Ram Raso | Madhodas |
| Khumman Raso | Dalpat Vijay |
| | |
| --- | --- |
| Vijaypal Raso | Nall Singh |
| Prthviraj Vijaya | Jayanak |
| Hammir Mahakavya | Nayan Chand Suri |
| Hammir Mad-mardan | Jai Singh Suri |
| Raag Manjari, Ragmala | Pundareek Vitthal |
| Padmavat | Malik Mohammad Jaisi |
| Kaivalyaamala | Udhyotan Suri |
| Bharteshwar Bhaubali Ghor | Vajrasen Suri |
| Panch Pandav Charit Rasu | Shailendra Suri |
| Sangitraj, Ekling Mahamtya, Nritya Ratnakosh | Rana Kumbha |
| Bhasha Bushan | Jaswant Singh |
| Rana Raso | Dayal (Dayaram) |
| Rukmani Haran | Vitthaldas |
| Rajasthani Shabdakosh | Sitaram Lalas |
| Dingal Kosh | Muraridan |
| Amarkavya Vanshavali (Sanskrit) | Ranachorr Bhatt |
| Bankidas Ri Khyaat | Bankidas |
| Marwar Ra Pargana Ri Vigat | Munhot Nainsi |
Bhakti Saints of Rajasthan
• Bhakti movement originated in ancient Tamil Nadu during 12th Century.
• It began to spread north during the late medieval ages when north India was under Islamic rule.
• The main period of Bhakti Movement in Rajasthan is early 16th Century to late 18th Century.
Important Bhakti Saints of Rajasthan:
• Dadu Dayal
• Sundar das
• Meera Bai
• Bhakhan
• Wajind
• Raghavdas
• Tal Das
• Charan Das
• Mavaji
• Khwaja Moinuddin Chisti
Dadu Dayal
• Believed to be born in 1544 in Samvat near Ahmedabad, Gujarat
• In 1568, came to Sambhar and began to give sermons and "Dhunia"
• Followers of Dadu Dayal made – Dadu Panth.
• Naraina is the prinicipal seat of Dadu Panthis. Here clothes & pothis of Dadu ji are kept.
• His teachings have been consolidated by his disciples – Dadudayal Ri Vani & Dadudayal Ra Doha.
• Contemporary of Rana Pratap & Akbar. In 1575, met Akbar and influenced him by his views.
• Dadu Dayal stressed on faith in God and Guru, knowledge of Self, love, morality, futility of casteism, truth and simple life.
• Virakt: Community of nomad disciples of Dadu.
• Dadukhol: Cave on Bhairana hill in Naraina, where Dadu Dayal entered into Samadhi.
• Followers of Dadu Dayal can be classified into 5 types:
o Khalsa
o Virakta
o Sthandhari
o Uttaradev
o Khaki
Sunder Das
• He was a disciple of Dadu Dayal.
• Born in 1596 in Dausa.
• Sunder Das established Naga sect.
• Wrote: Sunder vilas, Sunder Granthavali, Cyan Samudra, Sundersar.
• He is also knows as Shankarachrya of Rajasthan.
• Died in 1707 in Sanganer, Jaipur.
Meera Bai
• Born in 1502 at Kudki, Pali and was married to Bhojraj, eldest son of Rana Sanga.
• Her compositions include Teeka on Raag Govind, Rukmani Mangal, Teeka on Geet-Govind, and Narsi Mehta ni Mund.
• Meera Bai established Pasi sect in Brindhavan (UP).
• Meera was devotee of Krishna and treated him as her husband.
Lal Das
• Born: In 1540 at Dholidoov village of Mewat on Shravana Krishna Panchami.
• Opposed superstitions prevailing in society & stressed on devotion & purity.
• Sermons are available in Laldas ji ki Chetavaniyan.
• Died: At Nagla village of Bharatpur. His Samadhi is at Sherpur of Alwar.
• Major sites are in Alwar, Sherpur & Nagla.
Charan Das
• Born in: Derha, near Alwar, in Rajasthan.
• Author of around twenty works. Many of these are in verse and deal with aspects of devotion, particularly relating to the worship of Krishna.
• Wrote commentaries on various Upanishads, particularly the Katha Upanishad, and on specific yoga practices, especially Pranayama, control of the breath.
• Belived in harmony between Hinduism & Islam.
Mavaji
• Considered incarnation of Vishnu.
• Two disciples of Mavaji, Aji & Vaje built Laxmi Narayn temple at confluence of Som & Mahi Rivers.
Rajjab Ji
• Disciple of Dadu Dayal
• Born in: Sanganer, Jaipur
• Ancient seat in Sanganer known as Rajjab Dwar.
• Authored Rajjab Vani, Sarvangi.
Bhakhan
• Born in Narena
• Low caste Muslim singer, entertain Dadu with his fascinating songs.
Wajind
• Initially, a Pathan hunter.
• Came under influence of Dadu and became follower.
• Created literature for Dadu Panth.
Khwaja Moinuddin Chisti
• Born in 1143 in Sanjar, Iran
• He became disciple of Khwaja Usman Harooni of Chistiya Order (Silsila).
• Came to India during reign of Illtutmish and settled in Ajmer in 1233 A.D.
• His shrine is open to all irrespective of religion, caste or creed and especially for poor & needy, hence he is popularly knows as Garib Nawaz.
• Died in Ajmer, his tomb is popularly known as Dargah Sharif.
Lok Devtas & Devis of Rajasthan
• Rajasthan has a strong tradition of venerating righteous warriors as deities.
• Legends and anecdotes relate folk deities with supernatural power impressing & evoking faith and beliefs of people in these local deities.
Panchpir: Of the numerous Lok Devtas and Devis, the five greatest are worshipped throughout Rajasthan. These are –
Goga Ji
Ramdevji
Pabuji
Mehaji
Harbuji
Goga Ji
| | |
| --- | --- |
| Birth | • 1003 A.D. at Dadrewa in Churu district |
| Legend | Protects from Snakes bites (Jaharpeer).Saint Gogaji fought with Mahmood Gajnavi for protection of cows. |
| Died (Samadhi) | • Gogamedi in Hanumangarh District |
| Worship | Main Temple: Gogamedi, built by King Ganga Singh.Villages in Rajasthan has a Than dedicated to himThan is always built under Khejri tree. |
| Fairs | • Organised every year at Gogamedi from 9th day of dark-half (Krishna Paksh) of Bhadra month to eleventh of the month. |
| Phad | • Musical Instruments – Damru & Madal |
| Other Facts | Farmers tie 9 Knots – Goga Rakhadi – to their plough for good harvest.Goga Ji insignia – Blue Horse, Spear and Snake |
Teja Ji
| | |
| --- | --- |
| Birth | 1074 A.D. at Khadnaal in the Nagaur district of Rajasthan.Day was Magh Shukla Chaturdashi |
| Legend | Snake Diety.Tejaji sacrificed life while recovering cows of Lachha Gujri from cluthes of Meenas. |
| Worship | Tejaji's major Than are located at Sursura, Beawar, Saindaria & Bhanwata in Ajmer district.Saindaria – Main place – as this is supposed to be place he was bitten by snake. |
| Fairs | • Parbatsar, Nagaur cattle fair is organized from Bhadra Shukla Dashmi to Poornima. |
| Other Facts | • Tejaji Ji identification – Horse-back, with Sword and Snake |
Pabu Ji
Birth
• 1239 A.D. at Kolu Village, Phalodi in Jodhpur district
Legend
Associated with Rathore family (Dandhal Ji Rathore & Kamla Devi) of Marwar.Diety associated with Camel.Healer of Plague disease.
Worship
Bhopa community are considered to be priest singers of Pabuji.The story of Pabuji is depicted through Phad.The two principal tools of a Bhopas are his fiddle (ravanhattha) and his portable temple (parh).
Main Temple – Kolu (Kolumund), JodhpurFolk Deity of Rebari Community.
Fairs
• Fair at Kolu on Chaitra Amavasya.
Other Facts
Pabuji indentification – Horse-rider with Spear.Pabuji's marriage was fixed with the daughter of Sora Rama Surajmal of Amarkot.
Ramdev Ji
| | |
| --- | --- |
| Birth | • Undookasmer Village, Shiv Tehsil in Barmer |
| Legend | • After giving away Pokharan in dowry for his niece Ramdev Ji made Runeecha (Ramdevra) his new residence. |
| Died (Samadhi) | • Runeecha, Jaisalmer |
| Worship | Temples located at Runicha (Jaisalmer), Barathia (Ajmer), Suratkheda (Chittorgarh).Ramdevji started Kamadia Panth.As symbol, his pagaliya (Foot prints) are worshipped. |
| Fairs | • Runeecha (Jaisalmer) – Bhadrapada Shukla Dwitya to Ekadashi. |
| Other Facts | Terah Taali dance is presented by kamadias.Ramdev ji composed – Chaubis Vaniya. |
Dev Narayan Ji
| | |
| --- | --- |
| Birth | • 1233 A.D. at Kolu Village, Phalodi in Jodhpur district |
| Legend | • The brave warrior and his Sadhak are considered incarnation of lord Vishnu. |
| Worship | Devmali near Asind (Bhilwara), Devdham Jodhpuria (Tonk).Leaves of Neem are essential for worship. |
| Fairs | • Fairs are held at Ajmer, Bhilwara, Tonk & Chittaurgarh on Bhadrapad Shukla Shasthi & Saptami. |
| Other Facts | • Leeelagar is name of his horse. |
Veer Kalla Ji
| | |
| --- | --- |
| Birth | • In 1601 at Merta in Nagaur district |
| Legend | • Kallaji is famous as "Lok Devta with four hands" |
| Worship | Ranela is sacred peeth.Temples are located at Bhauraigarh, Salumbar, Samalia, Gatroad. |
Baba Tallinath
| | |
| --- | --- |
| Birth | • Shergarh, Jodhpur |
| Legend | • Nature loving Lok DevtaHeld at high esteem in Jalore district.When a person is bitten by poisionous creature, taken to Baba's place & thread is tied. |
| Worship | • Panchmukhi hill of Panchota Village (Nagaur District) |
Hadbu Ji Sankhla
| | |
| --- | --- |
| Birth | • Bhudole in the Nagaur district (Contemporary of Rao Jodha) |
| Legend | • One of Panch Peers (Goga ji, Ramdevi ji, Pabu ji, Hadbu Ji, Meha ji) of Marwar.Well versed in Shakun Shastra. Cousin of Baba Ramdev. |
| Worship | • Main Temple: Baingti Village, Phalodi, JodhpurIn the temple, Sankhla Rajput act as priests and worship Harbhuji ki Gaadi. |
| Fairs | • Parbatsar, Nagaur cattle fair is organized from Bhadra Shukla Dashmi to Poornima. |
| Other Facts | • Tejaji Ji indentification – Horse-back, with Sword and Snake |
Meha Ji Manglia
| | |
| --- | --- |
| Birth | • Bapni Village, Jodhpur |
| Legend | • Manglias are main worshippers. |
| Worship | • Main Temple: Bapni Village, Jodhpur |
| Fairs | • Bapni village – Bhadrpada Krishna Ashtami |
Mallinath Ji
| | |
| --- | --- |
| Birth | • 1358 A.D. at Kolu Village, Phalodi in Jodhpur district |
| Legend | • Defeated army of Subedar Nizamuddin of Malwa in 1378 AD. |
| Worship | • Main Temple: Tilwara, Barmer |
| Fairs | Tilwara, Barmer – Chaitra Krishna Ekadashi to Chaitra Shukla Ekadashi.Tharparkar cow is traded most in his fair. |
| Other Facts | • Malani pargana in Barmer is named after him. |
Lok Devis of Rajasthan
| | |
| --- | --- |
| Kaila Devi | • Kuldevi of Karauli's royal family, worshipped as form of Durga.Lakkhi fair – Chaitra Shukla Ashtami – on Trikut hill at Kaila Devi. |
| Shila Devi | • After victory over East Bengal, Maharaja Man Singh of Amer installed the idol of Shila Devi in Amer in 16th Century. |
| Karni Mata | • Temple: Deshnok, BikanerGoddess of Rats; white rats in temple are called as Kaba.Kuldevi of RathoresCharan communit also considers her as their Kuldevi. |
| Jeen Mata | • Temple: Rewasa Village, Sikar According to inscription found in Harsh Mountain – Temple of Jeen Mata was built during period of Prithviraj Chauhan I Jeen Mata is considered Kuldevi of Chauhans. |
| Sakrai Mata | • Main Temple – Udaipurwati, Jhunjhunu. Kuldevi of Khandelwals. She is also called as Shakmbhari Devi & its temple is located at Sambhar & Saharanpur of UP. |
| Jal Devi | • Temple: Bavadi, Tonk. |
| Rani Sati | • Marble temple in Jhunjhunu. |
| Sheetla Mata | • She protects children from Chicken Pox. Donkey is her vehicle & Kumhar (Potter) is her Pujari. Main Temple: Sheel ki Dungari, Chaksu, Jaipur Also known as Sedhal Mata. |
| Mahamaya (Mahamai) | • Worshipped as protector of children. Pregnant women worship Mahamaya of Mavli (Udaipur) for safe delivery & well-being of their children. |
| Aai Mata | • Sirvi Community of Kshatriyas consider her as their Kuldevi. Temple: Bilada |
| Narayani Mata | • Temple: Barva Doongri, Rajgarh, Alwar Barbers consider Narayani Mata as their Kuldevi. |
| Ashapura Mata | • Considered incarnation of Hinglaj mata Kuldevi of Chauhan dynasty. |
Tribal Movements in Rajasthan
I. Bhagat Movement
• Founded by Surji Bhagat and Govind Giri
• Govind Giri, a social and religious reformer, established Samp Sabha, an organization to unite the Bhils and to create awareness amongst them, in 1883
• He preached monotheism, temperance, forsaking crimes and giving up superstitions
• He propagated orthodox Hindu practices like vegetarianism
• Encouraged Bhils to reject bonded labour and to fight for their rights
• The socio-religious movement started by Govind Giri culminated into a politico-economic revolt of the Bhils which came to be known as the Bhagat Movement
• He organized a gathering of Bhils on Mangarh Hill, at border of Banswara and Santrampur princely states, on November 17, 1913. Mewar Bhil Corps fired on the gathering, killing more than 1,500 Bhils
II. Eki Movement
• Started by Motilal Tejawat during Matrikundiya Fair in Chittorgarh in 1921, for uniting the Bhil tribals in Bhomat region, which later spread to Dungarpur, Banswara and Idar
• Tejawat presented a 21-point demand letter, called 'Mewar ki Pukaar' to Maharana of Mewar
• The demands related to levy of excessive taxes (lag-bags), begar (bonded labour), restrictions on forest use and rounding up of Adivasis for royal shikars
• Tejawat, known as Bhil Bavji, established Vanvasi Sangh in 1920 for creating awareness amongst Bhils
• In March 1922, troops of Mewar Bhil Corps opened fire on a gathering of agitators at Dadhvav, Idar, killing a large number of tribals
III. Meena Movement
• Meenas were subjected to severe restrictions on their movement under Criminal Tribes Act, 1871 (amended in 1924) and Jarayam Pesha law of 1930 which mandated every adult male Meena to report periodically to local police station
• Meena Kshetriya Sabha was formed in 1933 to demand abolition of Jarayam Pesha law
• All India Meena Sudhar Samiti was formed in 1942 for social reforms among Meenas
• A Meena conference was organized in 1944 at Neem-ka-thana under leadership of Jain Muni Magan Sagar
• In 1946, about 16,000 Meenas resigned as Chowkidars in protest against the Dadarsi law under which Chowkidar Meenas were held responsible for thefts in their areas and were made to make good the stolen property
• Jarayam Pesha law was repealed after Independence, Criminal Tribes Act was replaced by Habitual Offenders Act in 1952.
Peasant Movements in Rajasthan
Bijolia Peasant Movement
Bijolia: Class A Jagir of Udaipur Riyasat, presently in Bhilwara district
Stage I:
• 1897-1915
• Local Leadership, spontaneous movement by peasants against excessive lag-bags (taxes)
Stage II:
• 1915-1923
• Leadership taken over by Vijay Singh Pathik in 1916
• He established Vidya Pracharini Sabha
• Organized Bijolia Kisan Panchayat
• Support also extended by Rajasthan Sewa Sangh
• No-rent campaign by peasants
• Agreement in 1922 been government and Kisan Panchayat – reduction of taxes, grant of forest rights, judicial and police reforms
Stage III:
• 1923-1941
• 1922 Agreement not implemented
• Vijay Singh Pathik arrested in 1923
• Leadership taken over by Jamnalal Bajaj in 1930
• Agreement between Mewar state and peasants in 1939
• Peasants got back their surrendered lands
Begun Peasant Movement
Begun: Class A Jagir of Mewar Riyasat, presently in Chittorgarh district
• Movement of peasants against excessive lag-bags (taxes)
• Period: 1921-1925
• Leaders: Vijay Singh Pathik and Ramnarain Choudhary
• Activities: Boycott of courts and government offices, non-payment of taxes by farmers
• First Agreement: in 1923, between peasants and Begun Thakur – opposed by government terming it as a Bolshevik Agreement
• Firing by Trench – 2 farmers (Krupaji and Rupaji Dhakar) died
• Second Agreement: in 1925, with government – movement successful
• Most demands accepted: taxes reduced, begar pratha abolished, lata-kunta custom abolished and land settlement system adopted
Bundi Peasant Movement
• Period: 1922-23
• Leader: Nayanuram Sharma
• Important event: Police firing at Dabi village – Nanak Bhil died
Neemuchna Peasant Movement
• Period: 1925
• Important event: Police firing on protesting peasants at Neemuchna, Alwar – 50 persons died
• Mahtama Gandhi condemned it as 'Dyerism Double Distilled'
Sikar Peasant Movement
• Period: 1931-34
• Leader: Ramnarain Choudhary
• In 1931, Rajasthan Kshetriya Jat Sabha formed
• 1934: the movement ended successfully – lagaan reduced, land settlement done
Dudhwa Khara Peasant Movement
• Leader: Vaidya Mangharam
• Area: Bikaner riyasat
• Also known as 'Bikaner Conspiracy'
Political Awakening in Rajasthan: Praja Mandal Movements
Formation:
In 1927, the All India States People's Conference was held in Bombay after which the Congress party allowed people from different Princely States to join the party and the Indian freedom struggle movement.
In 1927 itself, the Akhil Bhartiya Desi Rajya Lok Parishad or All India Native States Public Council was established in Bombay and Vijay Singh Pathik became its chairperson.
In Rajasthan, Rajputana Desi Lok Parishad or Rajputana Native States Public Council was established. These councils laid the foundation for Praja Mandal movement in Rajasthan.
Nature of the Praja Mandal Movements:
• The people of Praja Mandal fought against feudalism and colonialism.
• They fought against their feudal princes and the British administration simultaneously for their rights.
• The main demand of the Praja Mandal movements was of democratic (fundamental) rights.
Activities of Praja Mandal Movements:
• The people of the Praja Mandal Movements implemented constructive programmes of the Indian National Movement in their princely states.
• They established schools, used khadi, encouraged cottage industries and started agitation against the Untouchability.
Contribution of Praja Mandals:
• The Praja Mandal movement not only created a political awakening among the people in the Indian States but also fought for their rights, their share in the government and their dynamic participation in the future political set up of the country.
• Other contributions included:
Improvement in Education
Rise of social equality
• The most important contribution of these organisation was to break the insularity of the peasant movements by linking them with one another in different princely states, as well as with peasant movements in British India.
1 Jaipur PrajaMandal Established: 1931 & 38
• Founded by Arjunlal Sethi & Kapur Chand Patni in 1931.
• Founded again by Jamnalal Bajaj & Hiralal Shastri in 1938.
• Chairman – Hiralal Shastri
• President – Jamnalal Bajaj
2 Bundi PrajaMandal Established: 1931
• Founded by Kantilal
• Nityanand was the most active member.
3 Marwar Praja Mandal Established: 1934
• Founded by Jaynarayan Vyas
• President – Bhanwarlal Sarraf
4 Hadoti PrajaMandal Established: 1934
• Founded by Nayanuram Sharma
5 Dholpur PrajaMandal Established: 1934
• Founded by Krishnadutt Paliwal, Mulchand, Jwala Prasad Jigasu
6 Bikaner PrajaMandal Established: 1936
• Founded by Mangharam Vaidya & Raghuvar Dayal Goyal
7 Mewar PrajaMandal Established: 1938
• Founded by Manikyalal Verma
• President – Balwant Singh Mehta
• Vice President – Bhure Lal Baya
8 Bharatpur Prajamandal Established: 1938
• Founded by Jugal Kishore Chaturvedi at Rewari in March 1938.
• Chairman : Gopilal Yadav
9 Shahpura PrajaMandal Established: 1938
• Founded by Gokul Lal Asawa, Madan Lal Purohit.
• First state to establish responsible governance
10 Alwar PrajaMandal Established: 1938
• Founded Pt. Harinarayan Sharma and Kunjbihari Modi.
• After its registration in 1939, Sardar Nathimala became its president.
11 Kota PrajaMandal Established: 1938
• Founded by Nayanuram Sharma and Abhinna Hari
12 Kishangarh PrajaMandal Established: 1939
• Founded by Kantilal Chauthani & Jamal Shah.
13 Karauli PrajaMandal Established: 1939
• Founded by Trilok Chand Mathur
14 Sirohi PrajaMandal Established: 1939
• Founded by Gopal Bhatt on Jan 22, 1949
15 Kushalgarh PrajaMandal Established: 1942
• Bhanwarlal Nigam (President) & Kanhyalal Sethia
16 Banswara PrajaMandal Established: 1943
• Founded by Bhupendranath Trivedi, Dhulaji Bhai
17 Dungarpur PrajaMandal Established: 1944
• Founded by Bhogilal Pandya (Gandhi of Vagad)
• Haridev Joshi & Nana bhai also associated
18 Bundi State People Council (Lok Parsihad) Established:1944
• Founded under leadership of Harimohan
• Minister – Brij Sundar Sharma
19 Jaisalmer PrajaMandal Established: 1945
• Founded by Mithalal Vyas
20 Pratapgarh PrajaMandal Established: 1946
• Founded by Thakkar Bapa, Amritlal Payak & Chunni Lai
21 Jhalawar PrajaMandal Established: 1947
• Founded by Mangilal Bhavya & Kanhiya Lal Mittal
Revolt of 1857 in Rajasthan
Revolt of 1857 is often been described as India's first war for Independence.
• On 29th March 1857, Mangal Pandey, a soldier of 34th regiment revolted at Barrackpur cantonment.
• There were six main centres of revolt in North India, namely Kanpur, Lucknow, Bareilly, Jhansi, Gwalior and Arrah in Bihar.
• Rajasthan was one of the states which actively took part in the rebellion of 1857.
• Unfortunately, most rulers of Rajasthan did not extend any help to the national forces during revolt of 1857 in Rajasthan; instead they helped the British forces in crushing the revolt.
Revolt of 1857 in Rajasthan
• In 1832 A.G.G (Agent to Governor General) Headquarter was established in Ajmer. Mr. Locket was the first A.G.G of Rajasthan.
• In 1845 the headquarter was transferred to Abu.
• During the revolt of 1857, George Patrik Lawrence was the A.G.G. and Rajasthan was divided into 6 British Cantonments:
• Naseerabad – Ajmer
• Devali (Deoli) – Tonk
• Erinpura (Arinpura) – Pali
• Kota – Kota
• Kherwara – Udaipur
• Beawar (Byawar) – Ajmer
Last two cantonments did not participate in the revolt.
Revolt at Naseerabad
• Naseerabad was the first place in Rajasthan where the Revolt of 1857 began on 28 May.
• The news of revolt of Meerut reached A.G.G. George Lawrence and he sent 15th Bengal Native Infantry located in Ajmer to Nasirabad due to which the dissatisfaction among the soldiers was born.
• Soon news of soldiers revolt also reached the soldiers in Nasirabad, and on 28 May 1857, the soldiers of the Native Infantry revolted in Nasirabad.
• Soldiers of 30th Native Infantry also joined in and after burning and capturing the cantonment, the soldiers left for Delhi.
Revolt at Neemuch
• When the news of Naseerabad revolt reached the military officer of Neemuch, Colonel Abbot, he forced soldiers to take an oath of loyalty in the parade ground on June 2, 1857.
• During the oath taking event itself, a cavalry soldier Ali Baig blurted out in anger that the Britishers themselves did not stand by their oath of Awadh and hence Indians too are not obliged to abide by their oath.
• As a result, on June 3rd 1857, soldiers of Neemuch also revolted. After burning the cantonment, they started for Delhi via Chittor.
• Baneda and Shahpura and joined the revolutionaries there and fiercely attacked the British army.
• Captain Shawers reached Neemach with the forces of Mewar and A.G.G. Lawrence sent the forces of Kota and Bundi to Neemach. Britishers again took the control of Neemach on 8th June, 1857.
Revolt at Erinpura
• In Erinpura cantonment, Jodhpur the Indian units of British forces revolted on 21 August, 1857. They marched towards Delhi shouting 'Chalo Delhi Maro Firangi'.
• On the way Thakur Kushal Singh Champavat of Auwa agreed to lead the soldiers and stood against the British Empire.
• Kushal Singh Champavat became the leader of hostile feudal lords of Maharana Takht Singh. By interference in the inheritance of Bithoda, he alienated Takht Singh.
• On August 21, 1857, the Jodhpur legion revolted by the military coupe.
• Since Kushal Singh was opposed to the British, he added these rebels with him.
• The combined forces defeated Jodhpur State forces near Auwa and lieutenant Heathcoat had to retreat.
• Battle of Auwa: After the incident, A.G.G. Lawerence reached Auwa and fierce battle followed. General Lawerence forces were defeated and rebel forces killed political agent Monkmesson.
• To avenge the defeat of Auwa, force was sent to Auwa under AGG George Lawerence Disa and Brigadier Holmes.
• Another firece battle followed but this time Kushal Singh was forced to flee.
• He fled towards Salumbar and the British looted Auwa and took the idol of Sugali Mata to Ajmer.
• Thakur Kushal Singh surrendered before British on 8th August, 1860.
• Later, Major Tailor investigation commission exonerated him and he died in 1864 in Udaipur.
• The battle of Auwa has been termed as "Battle of Black &Whites" in the folk songs of Rajasthan
Revolt at Kota
• The rebellion forces of Kota revolted under the leadership of two any officers: Mehrab Khan and Jadaya Kayashion 15th 1857.
• They killed resident Major Burton, his two sons and a doctor on 15 October, 1857.
• On 3 March 1858 the British forces under General Roberts crushed the rebellion at Kota.
• Mehrab Khan & Jaidayal Kayasth were hanged after this revolt.
Bharatpur Revolt
• Bharatpur remained distrurbed during the entire rebellion period and people of Gou and Mewati took part in the rebellion openly.
• On 31 May 1857, Bharatpur forces rebelled and Major Morrison fled towards Agra
Dholpur Revolt
• In October 1857, the rebel soldiers of Gwalior and Indore came to Dhaulpur. They grouped with the local rebels and put pressure on Dholpur ruler for providing artillery.
• About 1000 rebels under Rao Ramchandra and Hiralal then fled to Agra with the guns of Maharana Dholpur.
• In the end, the rule was re-established with help from forces of ruler of Patiala.
Consequences of Revolt of 1857 in Rajasthan
• As a result of mutiny of 1857, Amarchand Kathian of Bikaner was hanged.
• Since many leaders of the revolt were feudal lords, the British decided to destroy the power of the feudal system through various methods after the dissolution of the war.
• During the rebellion, the British were helped by the native rulers, so after the suppression of the rebellion, the British gave them titles and awards.
• Maharaja Ram Singh I of Jaipur helped the British with his resources and he was rewarded with title of "Sitar-e-Hind" and pargana of Kothputli.
• During the rebellion period, the British had to face severe inconvenience in sending their army from one place to another.
• Thus, after the dissolution in 1865 AD, the road leading to Jaipur and Ajmer and the road going to Nimach by Naseerabad through Chittorgarh was constructed.
• After the coup, there was a change in the traditional social structure of Rajasthan as well.
• After the suppression of revolt, modern education was disseminated and the English rules were executed in all the states.
• Because of this, the importance of Brahmins was reduced.
• This revolt created a new consciousness and awakening in the public. According to Shri Nathuram Kharagawat, "The general public also participated directly or indirectly in this enmity."
Reasons for failure of the revolt of 1857 in Rajasthan
The main reasons for the failure of the revolt of 1857 in Rajasthan were:
• Indigenous rulers were short-sighted, they were devotees of the British, so they did not support rebels.
• There was no definite leader of the rebels; in addition they lacked unity and organization.
• The rebels were not as skilled as the British in the battlefield.
Important facts to remember
• Maharaja Sardar Singh (Bikaner) was the only ruler who went outside Rajasthan to Badlu of Punjab to suppress the revolt with his forces
The Famous Fighters of 1857 Rebellion from Rajasthan:
• Tala Jaydayaal & Mehraab Singh (Advocate in Kota Darbaar)
• Thakur Khushaal Singh (Jodhpur)
• Suryamaal Missonn (Poet ofBundi Darbaar)
• Rawat Keshri Singh & Rawat Jodhsingh (Meivaar)
• Tarachan Patel (Tonk)
Tantya Tope in Rajasthan
• Tantya Tope entered Rajasthan, with the rebels of Gwalior.
• The forces of Nawab of Tonk under Vazir Khan also supported Tantya Tope against Britishers.
• Tantya Tope advanced towards Jaipur Via Banswara and Mewar where prince Feroze met him.
• On March 1, 1858 the rebels broke the cordon of Britishers and reached Sikar via Alvar but were defeated by the forces of Colonel Holmes.
• Tantya Tope then advanced towards Mewar via Bundi but General Abraham Roberts defeated him near Bhilwara.
• Tanya Tope again entered Banswara on 11th December, 1858.
• Maharaval Takshan Singh escaped to jungles but Man Singh Rukka, a companion of Tope helped the Britishers and captured him in the jungles of Narwar.
• He was hanged on 18th April, 1859 in Sipri (Shivpuri, Madhya Pradesh).
City Political Agent Ruler of State during Revolt
• Bharatpur Morrison Maharaja Jaswant Singh I
• Jaipur William Eden Maharaja Ram Singh II
• Jodhpur Mac Mason Maharaja Thakat Singh
• Kota Major Burton MahaRao Ram Singh
• Udaipur Captain Shawers Maharana Swaroop Singh
Marathas and Rajasthan
• The Rajput were first exposed to Maratha's during the time when Aurangzeb sent Jaswant Singh of Jodhpur & Jai Singh of Amer were sent to Deccan to subdue Shivaji.
• They failed in the process but admired Shivaji's spirit for independence, his concern for preserving Hindu culture and his fight against all odds with Aurangzeb.
• However, much of these interactions were limited to Deccan territories till Marathas under Peshwa Baji Rao I, started on an aggressive expansion campaign.
The Cordial Relations Phase
• When the Marathas were trying to gain foothold in Malwa, Sawai Jai Singh of Jaipur, extended clandestine support.
• Sawai Jai Singh's pro-Maratha policy was motivated by his desire to drive away the Mughals from Malwa with the help of the Marathas and then extend his own territories upto Malwa.
Maratha get close to Rajasthan
• By the end of 17th century the decline of Mughal power carved out sufficient space for new empire.
• A new strategy of systematic expansion towards north began with Bajirao taking over as Peshwa in 1720 A.D.
• Peshwa Baji Rao decided to overrun and bring under control the rich and flourishing provinces of Malwa and Gujarat.
• The province of Malwa was a part of the Mughal Empire and Sawai Jai Singh of Jaipur was regularly appointed as Subedar of Malwa.
• Sawai Jai Singh inflicted some initial defeats to Marathas but it failed to control the Maratha expansion and Malwa began to slip under Maratha domination.
Maratha raids in Rajasthan
• Maratha penetration in Rajasthan started with sporadic raids in states of Kota, Bundi, Mewar & Marwar.
• In 1726 Baji Bhim raided Mewar arid realized Chauth from a Mewar district.
• In 1728, Bajirao forced the rulers of Dungarpur and Banswara to pay tribute to him. They followed the route from the Mukandara Pass and across the Chambal from Malwa via Haroti, and from Gujarat via Idar and Jalore.
Battle of Mandsaur (1733)
• In 1732, Jai Singh was appointed the governor of Malwa for third time.
• At the beginning of 1733, Malhar Rao Holkar and Ranoji Shinde managed to encircle Jai Singh at Mandsor in Malwa. Maratha forces cut off 'grain and water supply' to Jai Singh's camp, forcing him to negotiate peace and agree to Maratha demands.
• He was compelled to pay 6 lacs in cash and promised to cede 38 paraganas in lieu of Chauth. Once Malwa came under Maratha domination, Jai Singh failed to control Peshwa's territorial ambitions further North.
• The Maratha victory at the Battle of Mandsaur had the following consequences:
Scindias and Holkars were emboldened to renew their attack on Rajasthan.
Kota and Bundi were made the next targets in the same year by the Marathas.
Maratha Penetration in Rajasthan
Role of Maratha in Bundi
• Marathas established Malwa as their base. It served as a convenient starting point for raids into Rajputana.
• However, Maratha's penetration into Rajputana is attributed to the internal affairs & policy of Rajputs.
• Sawai Jai Singh was keen to enhance his position in Rajasthan and expelled Budh Singh to put his own son in law, Dulel Singh on the throne.
• Budh Singh turned to seek the support of an external power stronger than Jai Singh. Pratap Singh Hada, the elder brother of Dalai Singh, was sent to Poona to meet the Peshwa and the other prominent Maratha sardars to enlist military support for Budh Singh.
• Holkar restored the authority of Budh Singh. However, soon after the Maratha forces departed, Jai Singh again expelled Budh Singh and reinstalled Dulel Singh on throne.
• After the death of Jai Singh, Ishwari Singh succeeded him at Jaipur.
• Rao Ummed Singh was 13 years old at time of his father Budh Singh's death.
• He revolted against Dulel Singh and was aided by Rao Durjan Sal of Kota. Ummed Singh captured Taragarh and seated on throne of his father.
• Dulel Singh fled to his suzerain at Jaipur and Ishwari Singh disposed forces to re-expel the Hada Ruler.
• Ummed Singh was soon compelled to abandon the throne.
• The widow of Budh Singh and mother of Ummed singh, paid a visit to Malhar Rao Holker.
• Consequently, Holker send forces and delivered Bundi to Ummed Singh.
• He continued marching towards Jaipur to reach castle of Bagru.
• After a siege of 10 days, Ishwari Singh was forced to sign a deed for surrender of Bundi and Ummed sign was seated on throne for second time.
• Malhar Rao demanded and obtained the district of Patan for his services.
Hurda Conference (1734)
• The Rajput leaders soon realized that Mughal power was incapable of resisting the Maratha expansion and decided to hold a conference at Hurda to discuss terms of a united Rajputana front against the Marathas.
• Hurda conference saw in attendance:
Sawai Jai Singh of Jaipur
Maharana Jagat Singh of Mewar
Abhay Singh of Jodhpur
Dulel Singh of Bundi
Durjansal of Kota
Zorawar Singh of Bikaner
Gopal Singh of Karauli
Raj Singh of Kishangarh
Bakhat Singh of Nagaur
• After prolonged deliberations, an agreement was signed on 17th July 1734.
Maratha role in Jaipur
• Sawai Jai Singh died on 21st September 1743 A.D. His death resulted in struggle for succession between his sons Madho Singh and Ishwari Singh.
Madho Singh was the younger son of Sawai Jai Singh from the princess of Mewar who was given in marriage to him in 1708 on the condition that the son born to her would succeed Jai Singh even if he was younger in age.
Ishwari Singh was eldest son, and according to the Rajput custom he was the heir apparent.
• After the death of Jai Singh, Ishwari Singh who was at Jaipur succeeded him. He was given due recognition not only by the Mughal emperor but also by his neighboring Rajput rulers. Additionally, Peshwa also sent succession presents to Ishwari Singh.
• Maharana Jagat Singh of Mewar felt insulted and started preparations to dethrone Ishwari Singh. Durjansal of Kota also joined in the cause of Maharana.
• Ishwari Singh marched with a large force to encounter the combined forces of Kota and Udaipur, encamped at Jamoli.
• The fight continued for 40 days, after which, Ishwari Singh reached an agreement with the Maharana, giving the pargana of Tonk to Madho Singh.
• Madho Singh was not satisfied with this agreement and desired the throne of Jaipur.
• In 1744, when Ishwari Singh was at Delhi, the Maharana accompanied by Madho Singh, marched against Jaipur. Ishwari Singh returned to Jaipur and sought help of Marathas.
• The Maharana was taken aback to see such a situation and he had to even promise some money to the Marathas to save his troops from annihilation.
• Not disappointed with the above failure, Maharana now sought Maratha support and concluded agreement with Malhar Rao Holker of payment of two lakh rupees.
• Maharana dispatched his forces of Kota and Shahpura. Holkar also sent his son Khande Rao with twelve thousand horses to join the new allies.
• A bloody battle was fought at Rajmahal and won by Ishwari Singh on March, 1747.
• Another battle was fought on 14th August 1748 between the allies and Ishwari Singh, in which Ishwari Singh was rooted out.
• Being helpless, Ishwari Singh committed suicide. Having captured the city of Jaipur without any resistance, Holkar installed Madho Singh on the throne.
• However, the adverse condition of Jaipur state did not change even after this struggle for succession ended as Maratha demand kept on increasing.
Maratha Intervention in Marwar
• Even before the culmination of Jaipur struggle, Marathas were engaged into Jodhpur dispute.
• It commenced with the accession of Ram Singh on 13 July 1749 on the throne of Marwar. His right was disputed by his uncle, Bakhat Singh.
• With the help of Rajput sardars he revolted against Ram Singh and defeated him in a battle at Luniawas, 27 November 1750.
• Ram Singh was expelled from Jodhpur and sought refuge in Jaipur.
• Bhakt Singh ruled until his death on 21 September 1752, after which his son Vijay Singh succeeded.
• The death Bhakt Singh, afforded Ram Singh, the chance of redeeming his birth right. Sawai Madho Singh of Jaipur also backed the exiled Ram Singh for the throne of Jodhpur.
• The Marathas were keenly observing the situation and took full advantage of their rivalry, concluding a treaty with Ram Singh.
• Together they attacked on Bijay Singh in May 1761.
• The triumphant Marathas spread across the territory Marwar. This created hatred against the Marathas and culminated in the murder of Jayappa Sindhia on 24 July, 1755.
• The death of Jayappa changed the terms between Ram Singh & Marathas and in addition to territory of Ajmer, they now demanded revenue from entire territory of Marwar.
• The Marathas switched sides and abandoned Ram Singh.
• A battle ensued, Vijay Singh took help of Malhar Rao Holker and ended the contest once and for all for all in his favour.
• Ram Singh passed his remaining life at Jaipur, where he died in 1772.
Maratha intervention in Jat Affairs
• The rivalry between Jawahar Singh and Nahar Singh also paved the way for Maratha intervention in the Jat affairs.
• Maharaja Suraj Mal died in 1763.
• At the time of Raja Suraj Mai's death, Jawahar Singh was in Farrukhnagar. Maharaja Suraj Mal's nobles placed Nahar Singh on the throne.
• On hearing this news Jawahar Singh set to return to Bharatpur, take revenge with Nahar Singh and lay his claim to throne.
• Bal Ram, brother-in-law of Maharaja Suraj Mal and the commander of Bharatpur forces came prepared for war against Jawahar Singh.
• However, ultimately, he accepted Jawahar Singh's claim to the throne and Jawahar Singh ascended the throne of Bharatpur.
• Soon, Jawahar Singh wrested Narnaul district of Jaipur and this alarmed Sawai Madho Singh.
• He approached both Holkar and Sindhia for help, who responded favourably to Sawai Madho Singh's appeal and sent their forces to Jaipur.
• The Maratha intervention in favour of Jaipur spoiled Jawahar Singh's and he was forced to make peace with Madho Singh.
• Nahar Singh held Dholpur as his appanage. Jawahar Singh helped the Raja of Dholpur to be independent of the Marathas. He inflicted a severe defeat to Marathas.
• Consequently, Vijay Singh of Marwar and Jawahar Singh joined hands to fight against the Marathas.
Conclusion:
• The Marathas gained prominence under the leadership of Shivaji.
• He organized them into a force that successfully challenged the mighty Mughal Empire.
• Mughal weakness gave most opportune time when the Peshwa's policy of Northward expansion.
• Under the able supervision of the Peshwas, the Marathas established their control over Malwa and Gujarat.
• Rajasthan, shared borders with both Malwa & Gujarat, hence, geographical proximity enabled Marathas to foray easily into Rajputana dominions.
• Initially, the Marathas made sporadic raids but in wake of declining Mughal Authority they were formally invited by the Rajput Rajas to intervene in their succession disputes.
• The Rajput State of Bundi was the first to invite Maratha assistance in domestic feud. This was later followed by the States of Jaipur, Jodhpur and even Me war.
• In return for this support, Marathas were promised huge sums of money.
• At times when Rajput Rajas could not pay the due installments, certain territories were transferred to Marathas.
• Thus, the Marathas entered Rajasthan to settle the domestic feuds, for which they were hired, later they became the masters who levied tribute and ravaged the land whenever they desired.
• The Maratha intervention in Rajasthan ended with rise of new authority in form of East India Company.
• The Rajputs realized that they could be delivered from their problems only by the rising British power and beginning from 1803 till 1823, all the Rajput States including Alwar, Karauli, Kota, Jodhpur, Mewar, Bundi, Bikaner, Kishangarh, Jaipur, Banswara, Pratapgarh, Dungarpur, Jaisalmer and Sirohi concluded subsidiary treaties with the British Government.

British Treaties with Rajput States
• In the latter half of 19th century, the Rajputana States were being crushed by continuous subjugation of Maratha Power and attacks of Pindaris.
• Whenever the states of Rajasthan tried to get free from the clutches of the Marathas they were defeated repeatedly and their territories were devastated.
• Almost all of Rajasthan had been virtually brought under by the Marathas, who exacted tribute, annexed territory, and extorted subsidies.
Lord Wellesley (1798-1805) took interest in the Rajput- Maratha affairs to safeguard British interests in India.
• He wanted to curb the Maratha power in northern India and planned mutual friendship with the Rajputs against the Marathas.
• He succeeded in his plan but after his departure from India the British policy towards Rajputana changed.
Lord Hastings (1813-1823) sought to impose British paramountcy in India for which suppression of the Marathas and the Pindaris was essential.
• He looked upon the Rajputana States as his natural allies against the Marathas and the Pindaris.
• Charles Metcalf, the British Resident at Delhi, was entrusted with the duty of negotiating alliances with the states of Rajasthan.
• Through these treaties the States of Rajasthan came under the complete subordination of the British.
• In principle the external affairs of these states passed into the British hands and a nominal independence was given to the rulers in internal affairs.
• The British were empowered to interfere in internal affairs too.
• In fact, the Rajasthani rulers lost their freedom and power but in the colonial interests their existence was safeguarded by the British.
• Now the rulers became responsible to the British instead of being responsible to their people.
The Treaty of Bharatpur with British
• After the death of Mahraja Surajmal, Mughal ruler Alamgir II & Marathas decided to capture the Jat territories.
• In 1784, Scindhia attacked Bharatpur and captured a large part of Jat territory.
• However, Maharani Kishori appealed to Scindhia and he withdrew, after Bharatpur agreed to pay an yearly Chauth of 2 lac rupees.
• In 1803, the British sent a proposal to Bharatpur to offer protection against the Marathas.
• Consequently, a treaty was signed between Maharaja Ranjeet Singh & Lord Lake in 1803.
• However, the treaty did not survive long. Yashwant Rao Holker started a series of battle against the British, on 8 July 1804, Yashwantrao Holkar defeated the army of Colonel Manson and Leukan at Mukundara and Kota.
• On 16 November 1804, Maharaja Holkar reached Deeg by defeating the army of Major Frazer.
• The Jat ruler Ranjit Singh of Bharatpur welcomed him and decided to be with Maharaja Yashwantrao Holkar against the British.
• Lord Lake attacked Deeg on 13 December 1804, then the army of Holkar and Jat successfully resisted and reached Bharatpur.
• Lord Lake again attacked on 3 January 1805, along with General Manson and others. A siege of Bharatpur followed and lasted for three months.
• Subsequently, Ranjit Singh was forced to sign a new treaty with the British on 17 April 1805.
Treaties/Agreements between British & Rajputana States
| | | | |
| --- | --- | --- | --- |
| S.NO | State | Date of Treaty | Ruler of the State |
| 1 | Bharatpur | 1803, 1805 | Ranjeet Singh |
| 2 | Karauli | 15 November 1817 | Harvakshpal Singh |
| 3 | Tonk | 17 November 1817 | Nawab Amir Khan |
| 4 | Kota | 26 December 1817 | Maharao Ummed Singh |
| 5 | Jodhpur | 6 January 1818 | Maharaja Mann Singh |
| 6 | Udaipur | 13 January 1818 | Maharana Bhim Singh |
| 7 | Bundi | 10 February 1818 | Rao Vishnu Singh |
| 8 | Bikaner | 21 March 1818 | Surat Singh |
| 9 | Kishangarh | 7 April 1818 | Kalyan Singh |
| 10 | Jaipur | 15 April 1818 | Sawai Jagat Singh |
| 11 | Jaisalmer | 2 January 1819 | Maharao Moolraj |
| 12 | Sirohi | 11 September 1823 | Maharao Shiv Singh |
Integration of Rajasthan
Rajasthan State Formation: Post Independence
Before Independence, Rajasthan was Rajputana consisting of twenty-two small and big Princely States.
On 5th July 1947 the State Secretariat was established with V. K Menon as its Secretary. In August 1947, at the time of Independence, Rajasthan included 19 princely states & 3 thikanas (Chiefships) of Neemrana, Lava & Kushalgarh.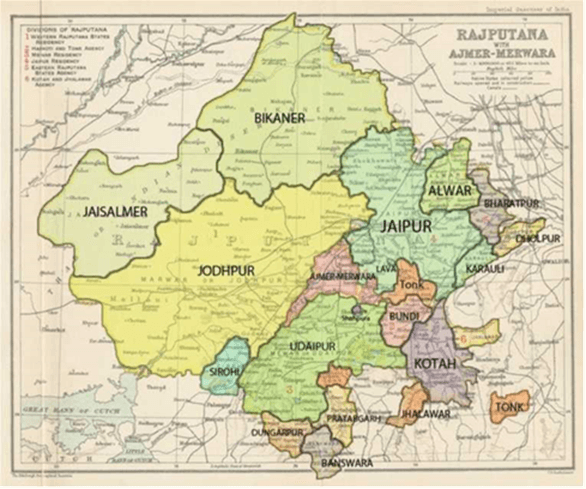 Though these Princely States were declared to have been annexed to the Union of India on 15 August, 1947, the process of merger and their unification became completed in November 1956, in 7 stages / phases.
First Stage: Matsya Union
In the first stage of merger four Princely States of Alwar, Bharatpur, Dholpur and Karauli formed the Matsya Union and it was inaugurated on 17th March, 1948. The Cabinet of this Union was formed under the Leadership of Shri Shobha Ram, from Alwar.
Second Stage : Rajasthan Union
2nd Stage: Separate from Matsya Union, the Rajasthan Union, consisting of Banswara, Bundi, Dungarpur, Jhalawar, Kishangarh, Pratapgarh, Shahapura, Tonk and Kota, was inaugurated on 25 March, 1948. The Kota State got the honour of being the capital of this Union. The Kota Naresh was appointed as the Rajpramukh and Shri Gokul Lai Asawa was appointed as the Chief Minister.
Third Stage: United States of Rajasthan
3rd Stage: But only three days after inauguration of Rajasthan Union, the Maharana of Udaipur decided to join this Union which was accepted by the Government of India. The Maharana of Udaipur was appointed as Rajpramukh and the Kota Naresh was appointed as Up- Rajpramukh of this Union and the Cabinet was formed Under the leadership of Shri Manikya Lai Verma. This United States of Rajasthan was inaugurated by Pt. Jawaharlal Nehru on 18 April, 1948.
Fourth Stage: Greater Rajasthan
4th Stage: The formation of the United States of Rajasthan paved the way for the merger of big states like Bikaner, Jaisalmer, Jaipur and Jodhpur with the Union and formation of Greater Rajasthan. It was formally inaugurated on 30 March, 1949 by Sardar Vallabh Bhai Patel. The Maharana Bhupal Singh of Udaipur was appointed as the Maha-Rajpramukh and the Kota Naresh was appointed as the Up- Rajpramukh and the Cabinet was formed under the leadership of Shri Hira Lal Shastri.
**Trivia: Rajasthan Day: 30th March (based on this stage)**
Fifth Stage: United States of Greater Rajasthan
5th Stage: Finally, Matsya Union was merged with Greater Rajasthan on 15 May, 1949. The post of Prime minister was discontinued and a Chief minister office was constituted. 'Hiralal Shastri' became the first Chief Minister of Rajasthan.
Sixth Stage: United Rajasthan
6th Stage: In 6th Stage, 18 states of United Rajasthan & princely state of Sirohi got merged with exception of Abu & Delwara. It was completed by 26 Jan 1950.
Seventh Stage: Rajasthan
7th Stage: This stage completed the integration, formation and reorganization of state of Rajasthan and took place because of State Re-organization Act of 1956. Under this, the erstwhile part 'C' State of Ajmer, Abu Road Taluka, former part of princely State Sirohi which was merged in former Bombay, State and Sunel Tappa region of the former Madhya Bharat merged with Rajasthan and Sironj subdistrict of Jhalawar district was transferred to Madhya Pradesh. The process got completed on 1 November 1956 and Mohanlal Sukhadia became Chief Minsiter and Gurumukh Nihal Singh became Governor.
New districts formed after the State Reorganization Act of 1956
After the State Reorganization Act of 1956, which came into effect on November 1st 1956, there were 26 districts in Rajasthan.
However, the formation of new districts did not stop there and there was formation of new districts from time to time:
• 27th District: Dholpur
o Formed by division of Bharatpur on 15-April-1982
• 28th District: Baran
o Formed by division of Kota on 10-April-1991
• 29th District: Dausa
o Formed by division of Jaipur on 10-April-1991
• 30th District: Rajsamand
o Formed by division of Udaipur on 10-April-1991
• 31st District: Hanumangarh
o Formed by division of Sri Ganganagar on 12-July-1994
• 32nd District: Karoli
o Formed by division of Sawai Madhopur on 19-July-1997
• 33rd District: Pratapgarh
o Formed by reorganizing Udaipur, Chittorgarh and Banswara districts on 26-Jan-2008