Wildlife of Rajasthan
• Though a large percentage of the total area of Rajasthan is desert and there is little forest cover, Rajasthan has a rich and variety of animal and plant species.
• The state has over 2000 plant species, 87 species of mammals, 114 species of fish, over 500 species of birds and about 81 species of reptiles.
• Due to vast size and latitudinal variations above the sea level of 1,700m there is a varied vegetation.
• From semi green forests which are witnessed in the region of Mount Abu to dry grasslands of the desert near Jaisalmer and Jodhpur, from dry deciduous thorn forest of Aravali to wetlands of Bharatpur; the varied topography constructs such different natural habitats for many endangered species and attracts many migratory birds.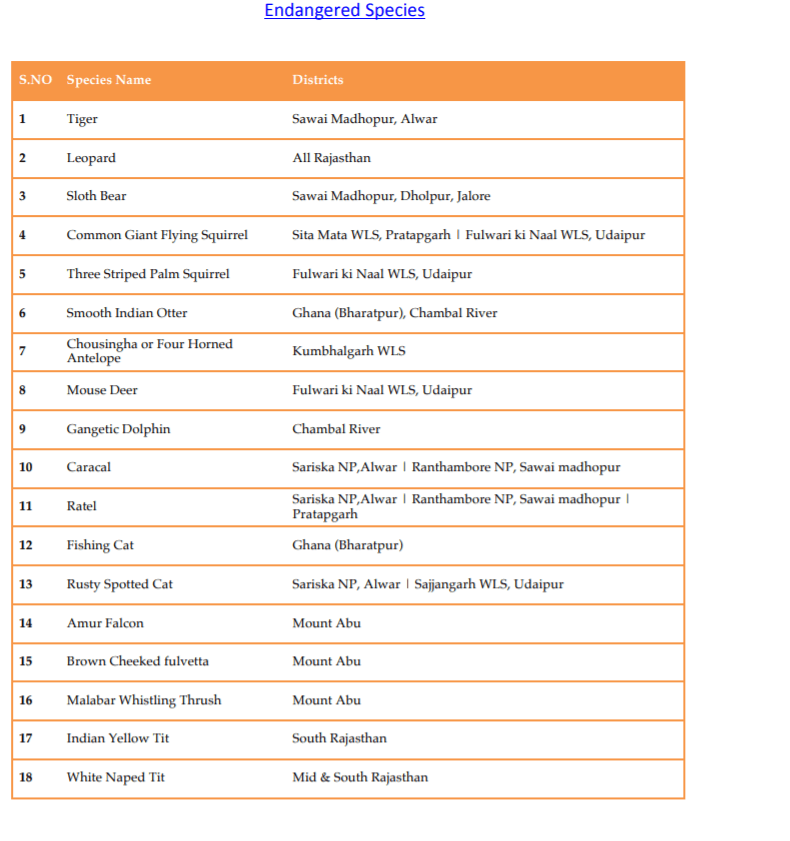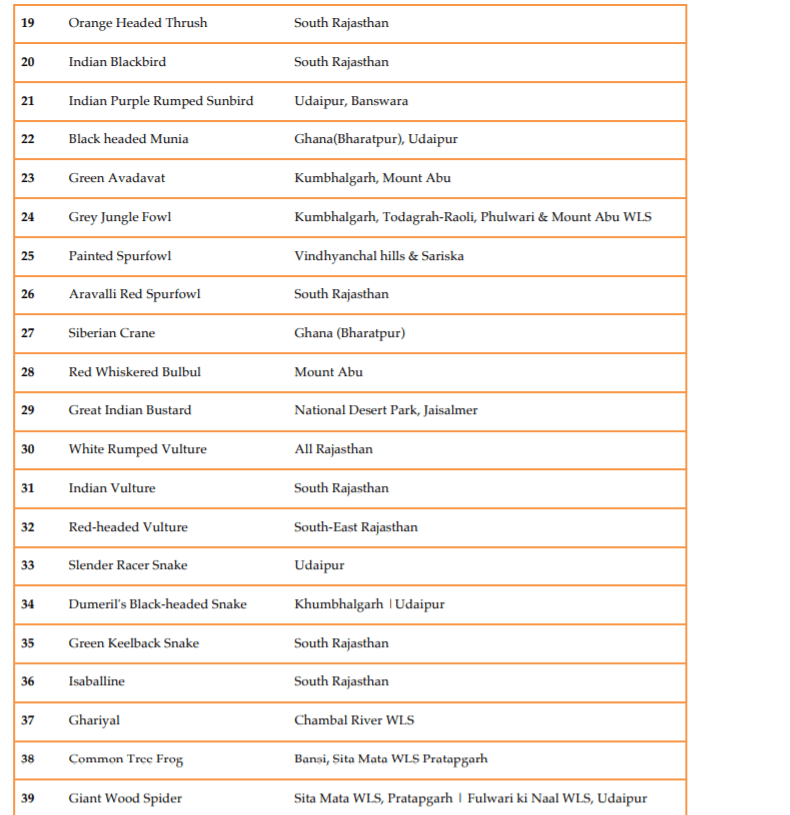 Great Indian Bustard
• Great Indian Bustard (GIB) is a large bird with a horizontal body and long bare legs, giving it an ostrich like appearance; this bird is among the heaviest of the flying birds.
• It is on the verge of extinction due to modernization of agriculture practises and rapid infrastructural developments.
• Rajasthan government in collaboration with the Wildlife Institute of India (WII), is formulating a long-term plan to the Great Indian Bustard (GIB) from extinction.
GIB Habitat:
• GIB was formerly widespread in India and Pakistan. Presently, 75% of GIB are found in Thar region of Rajasthan, and remaining in Gujarat, Maharashtra, Karnataka and Andhra Pradesh.
Conservation Status:
• GIB is listed in Schedule I of the Indian Wildlife (Protection)Act, 1972.
• GIB is also in the CMS Convention and in Appendix I of CITES.
• GIB has been classified as Endangered on the IUCN Red List.
• GIB also forms part of the National Wildlife Action Plan (2002-2016).
• It has also been identified as one of the species for the recovery programme under the Integrated Development of Wildlife Habitats of the Ministry of Environment and Forests, Government of India.
Protected Areas dedicated to conservation of GIB:
• Rajasthan:
o Desert National Park, Jaisalmer
• Gujarat
o Coastal grasslands of the Abdasa and Mandvi
o Naliya Sanctuary in Kutch
Threats to GIB
• The biggest threat to this species is hunting, which is still prevalent in Pakistan.
• Habitat loss and alteration as a result of widespread agricultural expansion.
• Occasional poaching outside Protected Areas.
• Collisions with high tension electric wires.
• Fast moving vehicles.
• Free-ranging dogs in villages.
• Windmills
Conservation of GIB in Rajasthan
• Rajasthan Government initiated "Project Great Indian Bustard", on World Environment Day 2013, identifying and fencing off bustard breeding grounds in existing protected areas as well as provide secure breeding enclosures in areas outside protected areas.
Issues in Conservation:
• The GIB habitat improvement and conservation breeding programme, to be implemented by the Wildlife Institute of India (WII) in collaboration with the Gujarat, Rajasthan and Maharashtra forest departments, proposes to collect eggs from the wild, transport these to Kutch to build a breeding population and subsequently release captive-bred birds.
• The Union Government has sanctioned Rs 35 crore for five years under the Compensatory Afforestation Fund Management and Planning Authority (CAMPA) for the project.
Installation of Windmills in Desert National Park
• National Green Tribunal (NGT) in September 2016 banned installation of windmills near Desert National Park (DNP) to protect the Great Indian Bustard. NGT had ordered ban on installation of windmills until the notification of the Eco Sensitive Zone (ESZ) around the park was finalized.
Tigers
• The Bengal Tiger (Panthera tigris tigris) is a native tiger species of the Indian subcontinent.
• Tigers are at the top of the food chain, often referred to as "umbrella species" and play a vital role in regulating and perpetuating ecological processes.
• Monitoring the status of tigers, along with associated biodiversity of the encompassing ecosystem, is important to assess our success at meeting the commitment of conserving our natural heritage.
Number of Tigers in Rajasthan
• As per the 'State of Tigers in India Report – 2018', Rajasthan has witnessed an increase of tiger population by 115% in the last 12 years.
• As per the Report there are at present 69 tigers in the State, compared to 45 in 2014, 36 in 2010 and 32 in the 2006 estimation. Rajasthan stands at 9th position in India, in terms of Tiger Population.
• In order to avoid human-wildlife conflict, relocating excess tigers and increasing the carrying capacity of reserves, the Rajasthan forest department is mulling to develop more habitats for big cats.
• The department is planning to introduce tigers in forest areas, such as Ramgarh Vishdhari, Shergarh, Kumbhalgarh, Rawli Toadgarh, Jhiri in Dholpur, Khetri Bansiyal in Jhunjhunu, Sultanpur in Bundi and Shahbad in Baran.
Tiger Reserves in Rajasthan
Rajasthan has 3 Tiger Reserves under Project Tiger. These are:
• Sariska Tiger Reserve
• Ranthambore Tiger Reserve
• Mukundara Hills Tiger Reserve
Out of the three, Ranthambore Tiger Reserve has the maximum big cats.
Ranthambore Tiger Reserve
• Ranthambhore became a national park on 1st November 1980.
• In 1984, the adjacent forests were declared as the Sawai Man Singh Sanctuary and Kailadevi Wildlife Sanctuary, and in 1991 the tiger reserve was enlarged to include the Sawai Man Singh and Kailadevi sanctuaries.
• Core Zone or 'Critical Tiger Habitat':
o Ranthambore National Park
• Buffer Zone:
o Kailadevi Wildlife Sanctuary
o Sawai Mansingh Wildlife Sanctuary
Mukundhara Hills Tiger Reserve:
• The Mukundara Hills Tiger Reserve is spread across four districts – Kota, Bundi, Chittorgarh and Jhalawar-covering an area of 759 square kms.
The reserve is a combination of three wildlife sanctuaries namely:
• Darrah wildlife sanctuary,
• National Chambal wildlife sanctuary
• Jawahar Sagar wildlife sanctuary.
In 2017, after approvals, the department started reintroduction of Tigers in Mukundhara hills tiger reserve from Ranthambore.
Tiger Corridors in Rajasthan
• Tiger corridors have been mandated under section 38V of the Wildlife (Protection) Act, 1972. In such tiger corridors there are no restrictions on people's activities, except illegal mining.
• There are two tiger corridors between Ranthambhore Tiger Reserve (RTR) and Mukundra Hills Tiger Reserve (MHTR), but they do not have legal status as conservation reserves.
• Corridor 1: Extends from Tesoda village in Sawai Madhopur to Bagli village in Kota and ends in Gagron region of Jhalawar district along the Kali Sindh river.
• Corridor 2: Spreads to Takheri, Ramgarh Vishdhari Sanctuary and Jawahar Sagar Sanctuary in Bundi district, and meets MHTR.
Ranthambhore-Kuno-Madhav tiger corridor has been identified as one of the 32 major tiger corridors in the country by NTCA.
Upcoming Tiger Reserves in Rajasthan (in Plan Stage only)
Ramgarh Vishdhari
• Rajasthan is poised to get its fourth tiger reserve with the forest department deliberating on upgrading the Ramgarh Vishdhari wildlife sanctuary.
• The total area of 1017 sqkm that has been identified as the reserve area comprising two forest blocks of Bhilwara, territorial forest block of Bundi and Indargarh, which falls under buffer zone of Ranthambore Tiger Reserve (RTR).
• The state government has been advised to send proposal by the National Tiger Conservation Authority (NTCA).
Kumbhalgarh Tiger Reserve
• Rajasthan forest department has initiated the process to upgrade Kumbhalgarh Wildlife Sanctuary in Rajsamand district into another tiger reserve.
• This Tiger Reserve will include Kumbhalgarh Wildlife Sanctuary, Todgarh-Raoli Wildlife Sanctuary and adjoining forest areas.
• The area of the proposed reserve is 1280.49 square km, out of which 355.25 square km will be the core area and 925 square km as buffer area in phase I.
Wildlife Protected Areas of Rajasthan
• Despite being a desert state, Rajasthan has good network of protected areas.
• Forests of Rajasthan are also very rich in wildlife and contain a varied range of prey and predator animals.
• The State has two world heritage wetlands, namely the Keoleodev National Park, Bharatpur and Sambhar lake, Jaipur.
• In Desert belt of the State, large number of wildlife is generally sighted outside forest areas also. Rajasthan also has the unique Desert National Park sanctuary.
• This rich biodiversity thus attracts large number of tourists to Protected Areas of the State and has become popular tourist destination with large number of historical forts, palaces and religious places with heritage buildings.
Wildlife Protected Areas in Rajasthan
State of Rajasthan has following types of protected area:
• National Parks
• Wildlife Sanctuaries
• Conservation Reserves
• Community Reserves
• Tiger Reserves
• Ramsar Wetlands
Unfortunately, Rajasthan does not have any Biosphere Reserve (based on UNESCO's Man and Biosphere Program) and being land-locked does not have any marine protected area (MPA).
National Parks in Rajasthan
There are 5 National Parks in Rajasthan, these are: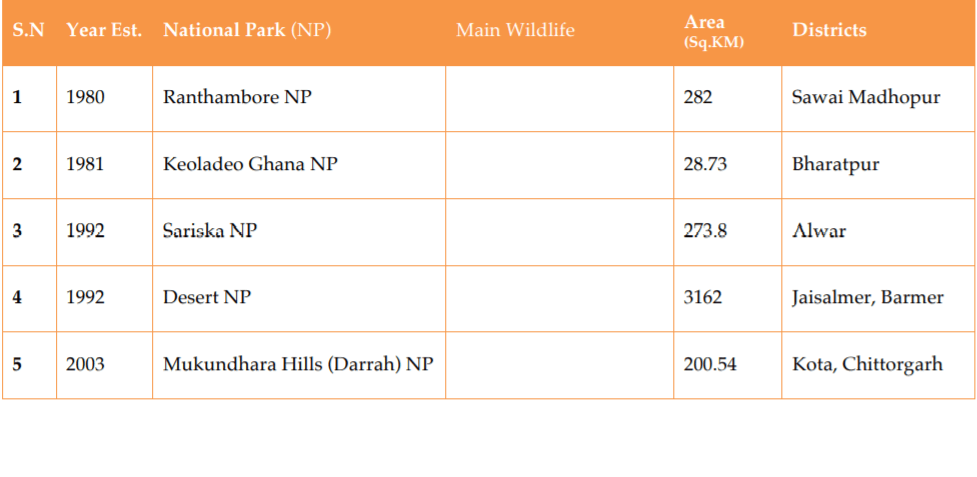 Ranthambore National Park
• Ranthambore National Park is located in Sawai Madhopur, district of Rajasthan.
• It is situated at the edge of a plateau and is bounded to the north by the Banas River and to the south by the Chambal River.
• The park is spread over an area of 392 sq km.
Keoladeo Ghana National Park
• Keoladeo Ghana National Park is recognised as one of the world's most important breeding and feeding grounds of birds. The area is home to about 353 species of birds.
• The park was a hunting ground for the Maharaja of Bharatpur, who turned his personal hunting domain into a bird sanctuary in 1956.
• Apart from setting up the sanctuary, Maharaja of Bharatpur also built a dam and an artificial lake to store the water from monsoon rains.
• The wetlands of Bharatpur were formed when Jat ruler Suraj Mal, who ruled the area between 1726 and 1763, flooded a natural depression by building the Ajan Bund.
• Water was fed into the marshes twice a year from inundations of the Banganga (North) and Gambhir (South) rivers nearby.
• A well- designed system of canals, sluices and dykes currently maintains the level of water in different blocks of the park.
Sariska National Park
• Sariska is a wildlife refuge that was declared a wildlife sanctuary in 1955.
• In 1979 it was upgraded to National Park.
• The 16th century Kankwadi fort, built by Jai Singh II, is also located near the centre of the park.
• Sariska is famous for Bengal Tigers but other species such as such as the Indian leopard, striped hyena, Indian jackal, chital, sambhar, nilgai, chinkara, four-horned antelope, wild boar, hare, hanuman langur can also be found inside the park.
Desert National Park
• The Park is formed of undulating sand dunes, jagged rocks, dense salt lake bottoms and inter-medial areas.
• The highly endangered Great Indian Bustard, one of the world's heaviest flying birds, can also be seen here.
• In winter, the park hosts an incredible variety of migratory raptors such Himalayan and Eurasian Griffon Vultures, Eastern Imperial Eagle, and the Saker Falcon.
• The Desert National Park (DNP) covers an area of 3162 km2 of which 1900 km2 is in Jaisalmer district and remaining 1262 km2 is in Barmer district of Rajasthan State.
• The Park also has a collection of fossils of animals and plants of 180 million years old.
• Some fossils of dinosaurs of 6 million years old have been found in the area.
Timeline:
• 1980 – UNESCO World Heritage Site
• 1992 – National Park
Mukundhara Hills (Darrah) National Park
• Mukundhara Hills (Darrah) National Park is situated between two parallel mountains viz. Mukundra and Gagrola which run across a length of about 80 km.
• After Ranthambhore and Sariska, Mukundara Hills Tiger Reserve is a third big cat habitat in Rajasthan.
Timeline:
• 1955 – Darrah was declared a wildlife sanctuary ((Protected area)
• 2004 – Declared as Mukundra Hills National Park
• 2013 – Got approval from NTCA & declared as Tiger Reserve.
Wildlife Sanctuaries in Rajasthan
• Wildlife Sanctuaries are areas within any reserve forest or the territorial waters, which is of adequate ecological, faunal, floral, geomorphological, natural or zoological significance.
• The Sanctuary is declared for the purpose of protecting, propagating or developing wildlife or its environment.
• Rajasthan has 25 wildlife sanctuaries that are abode to its unique & diversified plant & animal life.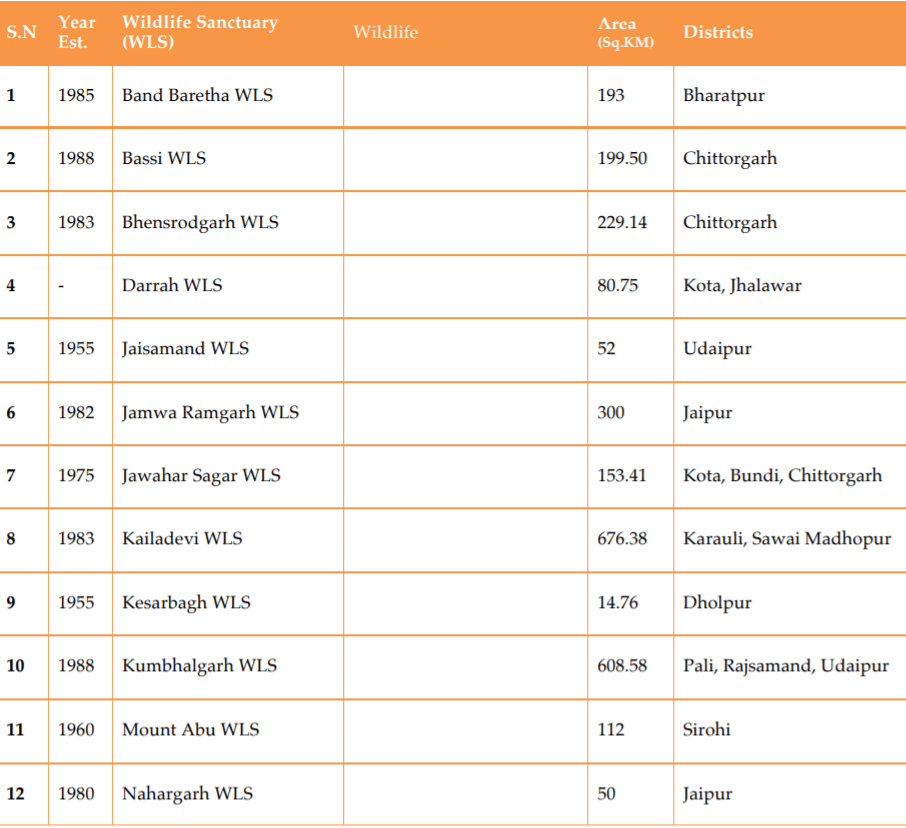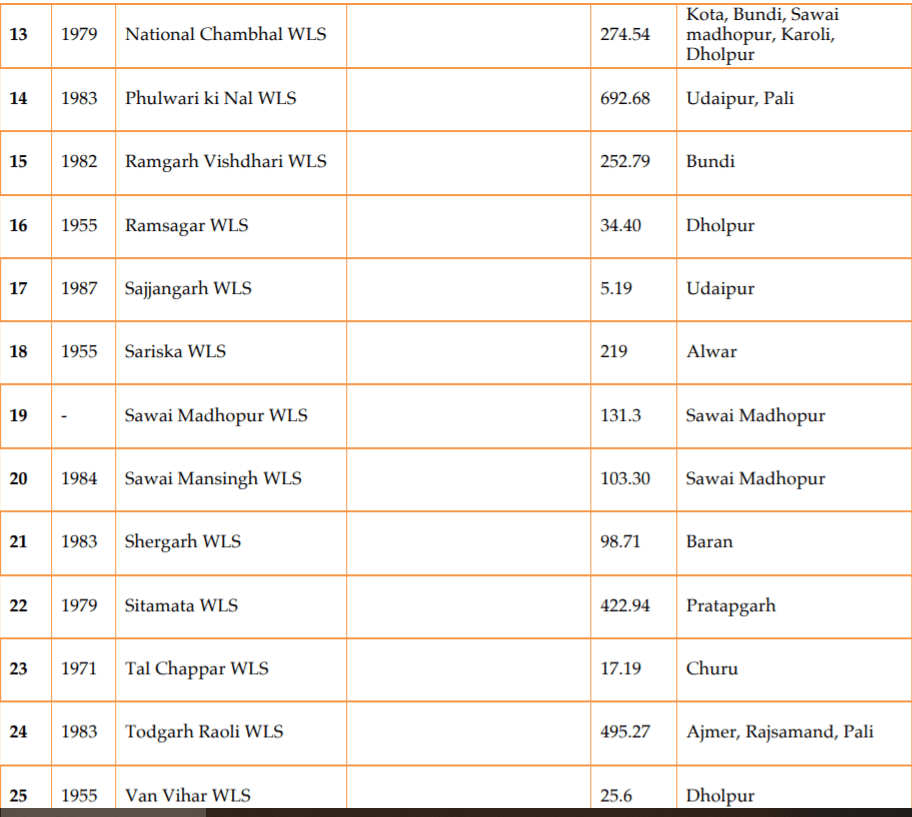 Conservation Reserves in Rajasthan
• Conservation Reserves can be declared by the State Governments in any area owned by the Government, particularly the areas adjacent to National Parks and Sanctuaries and those areas which link one Protected Area with another.
• Such declarations are made after having consultations with the local communities.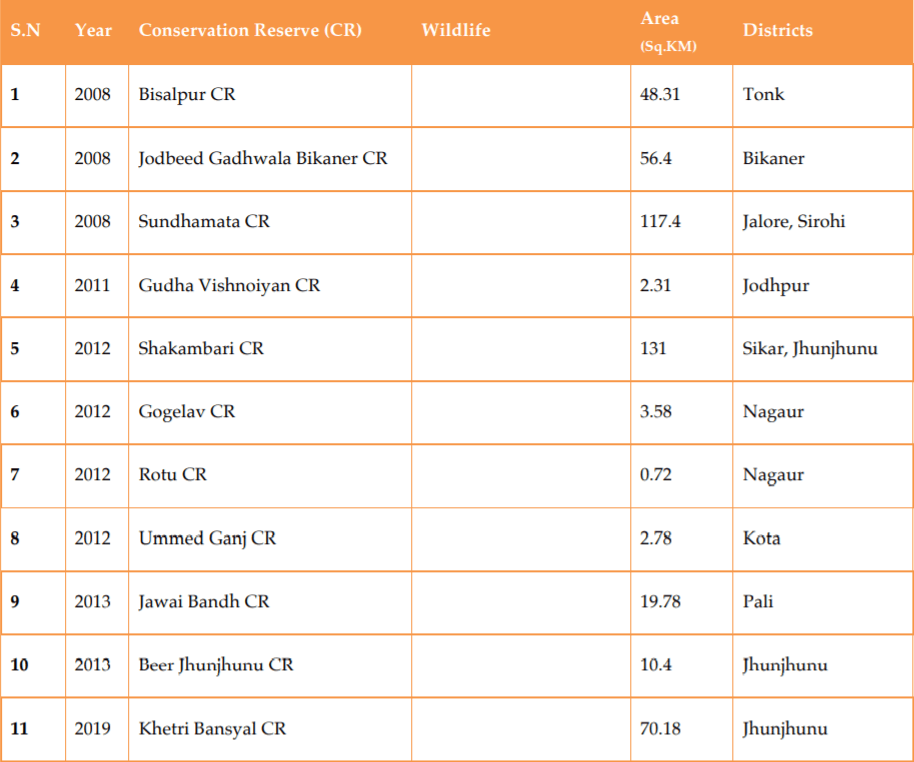 Wetlands in Rajasthan
• Ramsar Wetlands are wetlands deemed to be of "international importance" under the Ramsar Convention.
What is Ramsar Convention?
• The Convention on Wetlands, called the Ramsar Convention, is the intergovernmental treaty that provides the framework for the conservation and wise use of wetlands and their resources.
• The Convention was adopted in the Iranian city of Ramsar in 1971 and came into force in 1975.
• India has 37 sites designated as Wetlands of International Importance (Ramsar Sites), with a surface area of 1,056,871 hectares.
Ramsar Wetlands in Rajasthan
The State of Rajasthan has two wetlands that come under the Ramsar Convention, namely:
• Keoladeo Ghana, Bharatpur
• Sambhar Lake, Jaipur
Keoladeo Ghana Wetland, Bharatpur
• Keoladeo Ghana wetland is a complex of ten artificial, seasonal lagoons, varying in size, situated in a densely populated region.
• The area was earlier declared as a Wildlife Sanctuary and later upgraded as a National Park.
• The wetland was also placed on the Montreux Record in 1990 due to "water shortage and an unbalanced grazing regime".
Sambhar Lake Wetland, Jaipur
• Sambhar Lake Wetland is a shallow wetland, the depth of which ranges between 0.5 and 2.0 metres.
• Four main streams feed the lake from a drainage area of about 2,688 sq. metres. The vegetation present in the catchment area is mostly xerophytic type.
• Sambhar Salt Lake is India's largest inland salt lake.
• It is famous for harbouring flamingos in large numbers, next only to Rann of Kutch in the country.
District Mascots of Rajasthan
• To create awareness about animals and birds, each of the 33 districts of Rajasthan has been represented by an animal mascot.
• The forest department published a list regarding district mascots of each district of Rajasthan.