BRICS – Brazil, Russia, India, China, South Africa
• BRICS is an acronym for 5 emerging economies of the world viz. – Brazil, Russia, India, China, South Africa. The term BRIC was coined by Jim O' Neil, the then chairman of Goldman Sachs in 2001.
• The first BRIC summit took place in the year 2009 in Yekaterinburg (Russia). In 2010, South Africa joined formally into the association making it BRICS.
• The 11th summit of the BRICS grouping comprising Brazil, Russia, India, China, and South Africa was held in Brasilia on 13th & 14th November 2019.
What is BRICS
• BRICS is an association with more than 40% of the global population and with 25% of the global GDP (nominal GDP of US$16.039 trillion) and an estimated US$4 trillion in combined forex. Bilateral relations are conducted mainly on the basis of equality and mutual benefit.
Objectives of BRICS
• One of the major objectives of the grouping is broadening, deepening, and intensifying cooperation among the member countries for mutually beneficial, sustainable and equitable development.
• Every member's growth and development are considered to ensure that relations are built on the economic strengths of individual countries and eliminate competition wherever possible.
• Such diverse objectives allow BRICS to emerge as an innovative and encouraging Political-Diplomatic entity which was earlier formed just to resolve the global financial issues and reform institutions.
Features of BRICS
Accounts for 30% of GDP which is around $20 trillion.
Represents more than 40% of the world population.
Any countries from the EU or the USA are not a part of it.
Goldman Sachs came up with the idea of BRICS after the 2008 Global Recession.
Impact of BRICS on Reformations of Global Financial Institutions
• The financial crisis of 2008 was one of the major reasons behind the formation of BRICS. The dollar-dominated monetary market collapsed after the subprime mortgage crisis and raised questions about its reliability and sustainability.
• 'The reform of Multilateral Institutions' was established by BRICS in order to make changes in the structure of the World Economy, thus increasing the part emerging economies play in the world economy.
• These reformations of institutions resulted in the formation of the International Monetary Fund (IMF) quota reform after BRICS managed to push for it in 2010, further reducing the financial crisis due to western laws. BRICS ended being the 'agenda settlers' in multilateral institutions after this.
New Development Bank
• The New Development Bank (NDB), one of the multilateral development institutions created by the BRICS has been working successfully and is headquartered in Shanghai, China.
• It was discussed in the 2012 Summit and established in 2015.
• Fortaleza Declaration of the 2014 BRICS Summit stressed that the NDB will strengthen cooperation among BRICS and will supplement the efforts of multilateral and regional financial institutions for global development thus contributing to sustainable and balanced growth.
• Since the start of its operations after the 2015 Summit, 42 investment projects worth over $11 billion have been approved and are under implementation bringing in the much-needed investment in the developing countries.
• The major idea behind NDB was to mobilize funds and resources which the sustainable development and infrastructure projects demanded. NDB not only proved helpful for BRICS countries but also helped other emerging economies and developing countries.
Key Areas of operation of the NDB are:
Clean Energy
Sustainable Urban Development
Economic development among BRICS member countries
Agriculture development and irrigation
Transport infrastructure
• All the BRICS Member countries hold an equal stake in the bank and the NDB works on their consultative mechanism.
BRICS Summits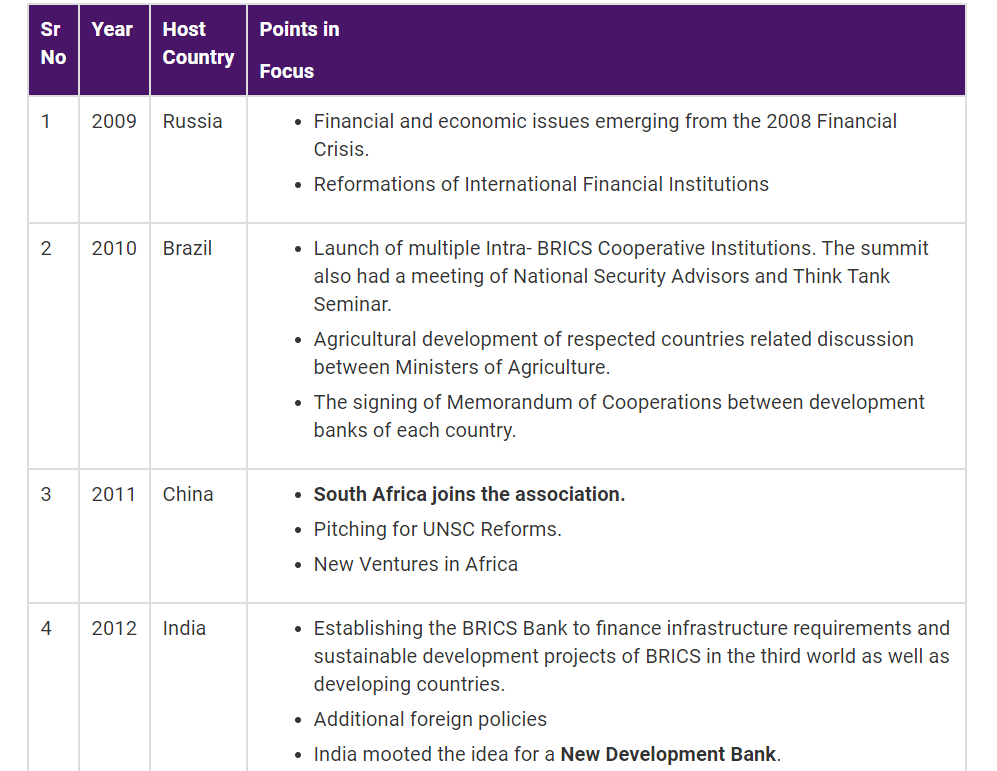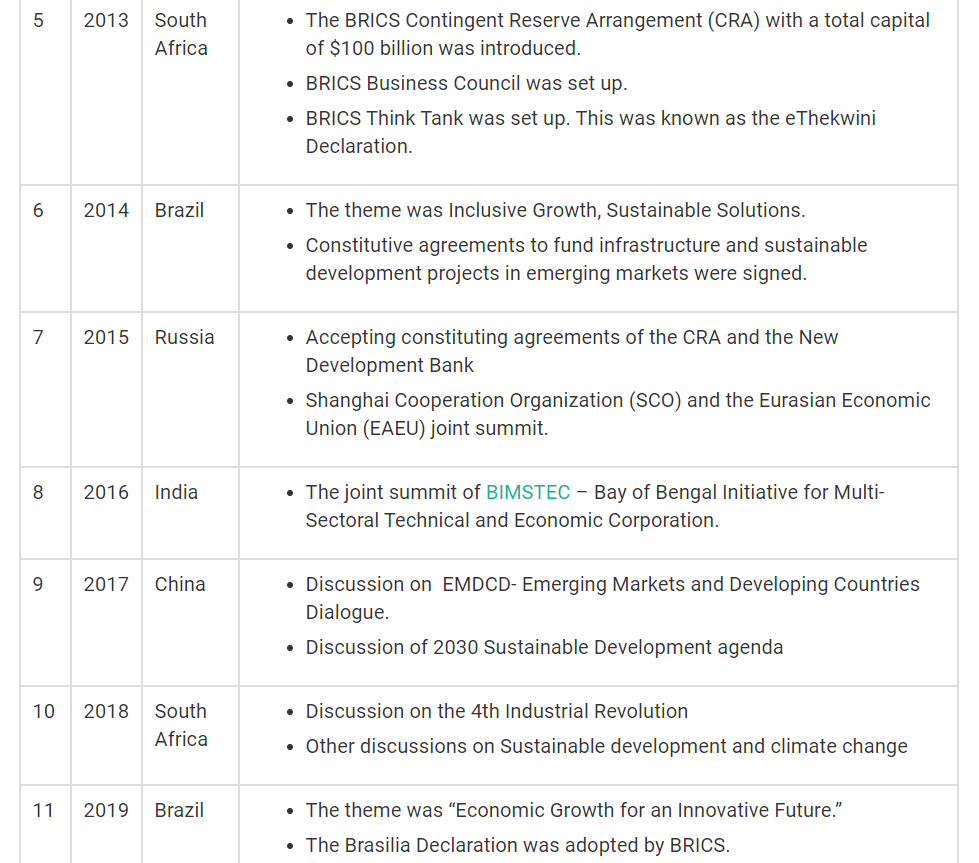 11th BRICS Summit
The latest BRICS Summit was held in Brazil in 2019.
Brasilia Declaration
• The Brasilia Declaration was signed by the BRICS members in the 11th BRICS Summit in Brasilia. This declaration reaffirms the members' commitment to upholding the UN Charter's purposes and principles, advocating multilateralism, and finding a political settlement to serious issues.
The Brasilia Declaration will be advocating and supporting
Multilateralism
The major role of the UN in international affairs
Mutual respect for international Law
• Reforming Multilateral Systems
The three major international organizations (UN, WTO and IMF) need to be strengthened and reformed in order to address the issues faced by the developing nations of the world.
• Supporting multilateralism
The US-China trade war has a significant impact on the global economy.
Multilateralism will allow emerging economies and developing countries to protect their own interests.
INDIA & UN REFORMS
• India has been actively pursuing its quest to be included in the reformed United Nations Security Council for many years. The argument of including new members is that UNSC has to acknowledge the current geopolitical realities which are very different from the time when UNSC was formed. The current permanent members of the
• Security Council are the five nations that were made permanent members in the charter when the United Nations was founded. These countries were the victors in the World War II and China were their allies.
• UN reform is a long drawn process which encompasses five key issues: categories of membership, the question of the veto held by the five permanent members, regional representation, the size of an enlarged Council and its working methods, and the Security Council-General Assembly relationship.
• Any reform of the Security Council would require the agreement of at least two-thirds of UN member states, and that of all the permanent members of the UNSC enjoying the veto right.
Changes in geopolitical realities since UNSC's formation
• The U.N. Security Council reform, being debated since two decades is too long overdue and the necessary expansion must be made considering how much the world has changed- United Nations Secretary-General Ban Ki-moon
• After World War II a bipolar world had emerged with two contrasting ideologies of Capitalism and Socialism. The United States was both a military power and an economic one; the Soviet Union had only brute force and the intangible attraction of Marxist ideology to keep its own people down and manage its newly acquired empire in the heart of Europe. This fueled the cold War between US and USSR.
• In a post-Cold War world, which is rapidly slipping again into local hot wars, including proxy wars that were characteristic of the Cold War period, the power balance is changing again with China replacing Russia as the pole opposite the US. India has also made great strides in terms of economic growth and concomitant military might. In contemporary time, World order is now multi polar and not bipolar.
Arguments for India's permanent membership
• There are many arguments given for India's permanent membership. First is, we are the biggest democracy in the world and in the current geo politics our contribution and influence cannot be ignored. So we should be part of the decision making body at the UN level.
• Second argument is, we are a growing economy and our influence has increased in the World economy and trade.
• Another factor that works against India's attempts to gain permanent membership on the Security Council is the state of its military. India has always been one of the countries at the forefront of providing peacekeepers and their peacekeeping forces are often consider among some of the best, but it's a whole different ball game being a permanent member.
Some of the other arguments given are:
• It is part of an otherwise underrepresented region, with large unrepresented religions (Hinduism and Islam).
• It frequently serves as a non-permanent (rotational) member, and usually wins the votes of almost all member states in its bids for non-permanent positions.
• It has the backing of some major players (France, Russia, United Kingdom, and United States), a number of European, Asian, and Latin American nations, and the African Union.
• It's relatively trusted by the Muslim states, and the Security Council could probably use someone other than China that can negotiate in the Middle East.
Relevance of UNSC in contemporary time
• UNSC being started as a council of victorious nations of WWII, it doesn't reflect interests of other Nations.
• There's a lot of criticism of the Security Council today, and its general ineffectiveness, its strong bent towards the already powerful P5, the veto power and the issue of geographic representation. As it stands, the permanent members of the Security Council have a heavy European bias. UNSC has lately become more and more irrelevant with the invasions of US in various nations, recently bombing in Iraq and Libya which were carried out without UNSC's assent.
• The UN Security Council remains the supreme decision-making body in the area of international security. It is a forum where political understanding can be hammered out among major powers and then, if their national perspectives can be reconciled, codified in decisions that are published, affording a degree of transparency.
• Security Council decisions remain the most appropriate way to ratify and codify the appropriate major power responses. UNSC reforms will take certain time, till then flexible ways need to be found to sustain a continuous engagement with the new major powers, both regarding what constitutes a threat to international peace and security and in crafting a response.
INDIA & G-20
• The G20 is an informal group of 19 countries and the European Union, with representatives of the International Monetary Fund and the World Bank.
• The G20 membership comprises a mix of the world's largest advanced and emerging economies, representing about two-thirds of the world's population, 85% of global gross domestic product, 80% of global investment and over 75% of global trade.
History of G20
• When the Asian Financial Crisis of 1997-1998 ended, it was acknowledged that the participation of major emerging market countries was necessary for a discussion on the international financial system. Hence, the G7 Finance ministers agree to establish the G20 Finance Ministers and Central Bank Governors meeting in 1999.
• The meeting of G20 Finance ministers and the Central Bank Governors was centred on major economic and monetary policy issues amongst major countries in the global financial system. Their aim was to promote cooperation towards achieving stable and sustainable global economic growth for the benefit of all countries.
• They upgraded to the head of the state level, as a forum for leaders from major developed and emerging market countries. In September 2009, the third summit was held in Pittsburgh where the leaders designated the G20 as the "premier forum for international economic cooperation." The summit meetings were, henceforth held semiannually until 2010 and annually from 2011 onwards.
G-20 Summit–2019
• The 14th G20 Summit was held in Osaka, Japan on 28th -29th June, 2019.
• 15th G20 Summit will be held in Riyadh, Saudi Arabia in November 2020.
Highlights
• The G20 Summit 2019 was based on discussions on subjects like trade, energy, climate change etc.
• Indian PM (his sixth G-20 summit) held many plurilateral meetings with other world leaders like heads of Russia, USA, Japan, China etc.
• Along with that India also participated in two parallel tri-laterals i.e the Russia-India-China (RIC) and Japan-U.S.-India (JAI) and an informal BRICS summit.
• JAI Trilateral: Three countries discussed issues of the Indo-Pacific region, connectivity and infrastructure development. It was the second Japan-America-India (JAI) meeting.
• Informal BRICS meet: India stressed the need to stop all the mediums of support to terrorism and racism. Indian PM called terrorism "the biggest threat to humanity" which kills innocent and severely affects economic development and social stability.
• India and the US discussed various bilateral and global issues including Iran, 5G communications networks, trade and defence ahead of the G-20 Summit.
• India targeted to become a five-trillion dollar economy in the next five years.
• Further India pledged to make Social sector as its top priority and resolve to focus on infrastructure development, especially digital infrastructure.
• However, Indian PM also highlighted the deficiency of resources, underlining that "there is a shortfall of almost $1.3 trillion investment in the infrastructure.
• On the sidelines of G-20 summit, India and Japan signed exchange of Letter of Intent on Ahmedabad – Kobe Sister City Partnership.
• India also invited the G20 countries to join a global coalition on disaster resilience, saying disasters require quick and effective remedial measures as they invariably affect the poor the most.
• India and Indonesia set an ambitious USD 50 billion target for bilateral trade over the next six years.
SAARC & BIMSTEC
• Citing continuing support to cross-border terrorism from Pakistan, India has maintained that it is difficult to proceed with the SAARC initiative.
• The last SAARC Summit was in 2014, held in Kathmandu. In the past few years, India has been pushing for regional cooperation under the BIMSTEC umbrella.
• In 2014, PM Modi had invited all SAARC leaders, including the then Pakistan Prime Minister Nawaz Sharif for his swearing-in ceremony, in a major initiative to reach out to the neighbourhood. However, in 2019, the BIMSTEC leaders were invited, which was seen as an attempt to avoid inviting Pakistan for the event.
• Besides India, BIMSTEC comprises Bangladesh, Myanmar, Sri Lanka, Thailand, Nepal and Bhutan.
BIMSTEC = SAARC – (Pakistan, Maldives and Afghanistan) + (Thailand and Myanmar)
• Founded in 1997, BIMSTEC currently represents over 1.5 billion people and has a combined gross domestic product of 3.5 trillion US dollars.
• BIMSTEC has become a bridge between SAARC and ASEAN.
• Tensions between India and Pakistan have led to New Delhi shifting focus from SAARC to BIMSTEC.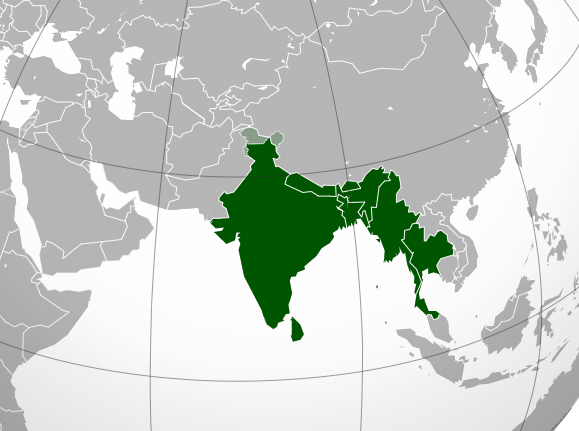 Has SAARC Lost its Utility?
• The South Asian Association of Regional Cooperation has come under serious scrutiny in the last few years.
• Even after three decades of its existence, SAARC's performance has been less than satisfactory, and its role in strengthening regional cooperation is being questioned.
• SAARC faced another setback after the 19th summit scheduled to be held in Pakistan in 2016 was suspended for an indefinite period, as member countries declined to participate, pointing to what they said was the absence of a conducive regional environment.
Why is India shifting towards BIMSTEC?
• South Asia is one of the most densely populated but poorly integrated regions in the world. Its intra-regional trade is less than 5% of the total trade of South Asian countries.
• The increase in trade could not be achieved through SAARC, as the organization has fallen victim to the bilateral dispute between India and Pakistan. Herein lies the opportunity that BIMSTEC provides.
• India can focus on connectivity projects in and around the Bay of Bengal region which will help unleash the potential of the seven north-eastern states in India.
• The Sittwe port in Myanmar is closer to the northeast region than Kolkata.
• Physical connectivity with BIMSTEC would also help India integrate itself with ASEAN's Master Plan of Connectivity 2025.
• India has already invested in the India-Myanmar-Thailand Trilateral Highway, the Kaladan Multimodal Transit Transport Project and the BIMSTEC Motor Vehicle Agreement.
• Better connectivity projects will help India leverage the untapped potential of BIMSTEC's possible trade linkages.
• India has moved from Look East Policy to Act East Policy and Indo Pacific cooperation through its diaspora, culture and connectivity. This has led to India's goodwill in the region.
What are the challenges for India?
• Overcoming weaknesses like project implementation in other countries as compared to China
• Good relations between India & Pakistan will benefit both the countries. This would also mean Pakistan military losing its relevance
• Preventing bureaucratization of the relations with neighbours
• Improving inter-ministerial coordination
Where is the way ahead for India?
• Ministry of External Affairs is engaging with PRAGATI model for timely implementation and delivery of its projects.
• Countries are wary of China as it is big but not benign. It looks for its own interests in other countries.
• Development of Hambantota Port in Sri Lanka by China has led to indebtedness of the former. Therefore, smaller countries are looking for India's engagement.
• UK model may be used for implementing what Prime Minister has said by forming a body and giving them administrative and financial independence when he/she is not in office.
• India needs to accept the reality that it has a troubled relation with Pakistan but it has to be open to them once they are willing to cooperate because India has investments in Afghanistan & Pakistan is a key player there.
Conclusion:
• Both SAARC and BIMSTEC focus on regions which are geographically overlapping but this does not make them equal alternatives. SAARC is a purely regional organization, whereas BIMSTEC is interregional and connects both South Asia and ASEAN.
• Hence, SAARC and BIMSTEC complement each other in terms of functions and goals and India has a unique opportunity to connect with ASEAN through 3Cs (Commerce, Culture and Connectivity).
Non-Aligned Movement (NAM)
• The Non-Aligned Movement was formed during the Cold War as an organization of States that did not seek to formally align themselves with either the United States or the Soviet Union, but sought to remain independent or neutral.
• The basic concept for the group originated in 1955 during discussions that took place at the Asia-Africa Bandung Conference held in Indonesia.
• The first NAM Summit Conference took place in Belgrade, Yugoslavia, in September 1961.
• It has 120 members as on April 2018 comprising 53 countries from Africa, 39 from Asia, 26 from Latin America and the Caribbean and 2 from Europe (Belarus, Azerbaijan). There are 17 countries and 10 international organizations that are Observers at NAM.
• The Non-Aligned Movement was founded and held its first conference (the Belgrade Conference) in 1961 under the leadership of Josip Broz Tito of Yugoslavia, Gamal Abdel Nasser of Egypt, Jawaharlal Nehru of India, Kwame Nkrumah of Ghana, and Sukarno of Indonesia.
• The purpose of the organization was enumerated in Havana Declaration of 1979 to ensure "the national independence, sovereignty, territorial integrity and security of non-aligned countries" in their struggle against imperialism, colonialism, neo-colonialism, racism, and all forms of foreign subjugation.
• During the cold war era the NAM played a vital role in stabilizing the world order and preserving peace and security. Non alignment of NAM doesn't mean the neutrality of state on global issues, it was always a peaceful intervention in world politics.
Principles
As J.L Nehru was founding members, the principles of NAM was largely guided by Panchsheel principles, some of them are:
Respect for the principles enshrined in the charter of the United Nations and international law.
Respect for sovereignty, sovereign equality and territorial integrity of all States
Peaceful settlement of all international conflicts in accordance with the charter of the United Nations
Respect for the political, economic, social and cultural diversity of countries and peoples
Respect for the inherent right of individual or collective self-defence, in accordance with the charter of the United Nations
Non-interference in the internal affairs of States
NAM in Cold War Era
• Against Apartheid: The evil of apartheid was massively prevalent in African countries like South Africa and its was on the agenda of NAM right from first conference. During 2nd NAM conference at Cairo the government of South Africa was warned against the discriminatory practices of apartheid.
• Disarmament: The Non-aligned Movement repeatedly comes out for maintenance of peace, the cessation of arms race and the peaceful coexistence of all States. In the General Assembly, India submitted a draft resolution declaring that the use of nuclear weapons would be against the charter of the United Nations and crime against humanity and should therefore be prohibited.
• UNSC reforms: Right from its inception NAM was in the favour of UNSC reforms, it was against the domination of US and USSR. It wanted the representation of third world countries to make UNSC more democratic. Members echoed with same demand at 17th NAM conference at Venezuela.
• Failed to resolve regional tensions: In the era of cold war the tension in South Asia escalated due to regional conflict between India- China and India-Pakistan. NAM failed to avoid tensions in the region that further led to the nuclearisation of the region.
India's Position
• India being a founder and largest member in NAM was an active participant in NAM meetings till 1970s but India's inclination towards erstwhile USSR created confusions in smaller members. It led to the weakening of NAM and small nations drifted towards either US or USSR.
• Further disintegration of USSR led the unipolar world order dominated by US. India's New Economic Policy and inclination towards US raised questions over India's seriousness over non alignment.
• Prime Minister of India skipped the 17th Non Aligned Movement (NAM) summit held in Venezuela in 2016, it was only second such instance when Head of a state didn't participate in NAM conference.
• Moreover, NAM continued losing relevance for India in a unipolar world, especially after the founding members failed to support India during crisis. For instance, during 1962 War with China, Ghana and Indonesia, adopted explicitly pro-China positions. During 1965 and 1971 wars, Indonesia and Egypt took an anti-India stance and supported Pakistan.
• India in particular, but also most other NAM countries, have integrated themselves to varying degrees within the liberal economic order and have benefited from it.
• India is a member of the G20 and has declared itself as a nuclear weapons power and has for all practical purposes abandoned the call for global nuclear disarmament.
• India has also engaged itself with new and old global powers. India joining the, a coalition seen by many as a counterforce to China's rise in the Indo-Pacific and Shanghai cooperation organisation led by China shown India's balancing approach in new world order. Quadrilateral Security Dialogue
• India is striving hard for a multipolar world order and asserting itself as one of the player. Multi polar world order is very much closed to NAM principles.
Emerging Global Order
NAM has to adopt and change itself to suit the newly emerging challenges and geopolitics such as:
• World has again moved towards bi-polarity, one led by US and other by China-Russia. The war torn Syria is prime example of this, where both US and Russia is asserting power.
• The escalating tension in Indo-pacific region due to China's assertion and US acting as a counterweight to check the Chinese expansionist policy.
• The large scale migration in Europe and Asia due to the unstable regimes and ethnic conflict in different parts of world.
• Issue of global climate change and occurrence of catastrophic disasters raising demand to form global consensus to deal with it.
• Changing US policies, protectionism, prevalent terrorism and nuclearisation of Middle East.
• Formation of multiple regional economic groupings like TPP and RCEP and fading away of multilateral bodies WTO from global arena.
Relevance of NAM
NAM continues to hold relevance as a platform and due to its principles.
• World peace – NAM has played an active role in preserving world peace.It still stands by its founding principles, idea and purpose i.e. to establish the peaceful and prosperous world. It prohibited invasion of any country, promoted disarmament and a sovereign world order.
• Territorial integrity and sovereignty – NAM stands with this principle and proved its repeated relevance with the idea of preserving the independence of every nation.
• Third World nations – Third world countries fighting against socio-economic problems since they have been exploited for a long time by other developed nations, NAM acted as a protector for these small countries against the western hegemony.
• Support of UN – NAM's total strength compromises of 118 developing countries and most of them being a member of UN General Assembly. It represents two third members of general assembly, hence NAM members act as important vote blocking group in UN.
• Equitable world order – NAM promotes equitable world order. It can act as a bridge between the political and ideological differences existing in the international environment.
• Interest of developing countries – If disputes arise between developed and developing nation at any point of a concerned topic for example WTO, then NAM act as a platform which negotiates and conclude disputes peacefully securing the favorable decisions for each member nation.
• Cultural diversity and human rights – In the environment of gross human right violation, it can provide a platform to raise such issues and resolve the same through its principles.
• Sustainable development – NAM supported the concept of sustainable development and can lead the world toward sustainability. Can be used as larger platform to make consensus on global burning issues like climate change, migration and global terrorism.
• Economic growth – The countries of NAM has inherent assets, such as a favourable demography, demand and favourable location. The cooperation can lead them to higher and sustainable economic growth. Can be an alternative to regional groupings like TPP and RCEP.
Way Forward
• NAM as a concept can never be irrelevant, principally it provides a strong base to foreign policy of its members.
• It should be seen as "Strategic Autonomy", which is the need of the hour of today's world. The principles of NAM still can guide the nations towards it.
• NAM is a platform where India can assert its soft power and provide an active leadership and by being a torchbearer for smaller countries at multilateral platforms.
• The conference of Heads of the State or Government of the Non-Aligned Countries, often referred to as Non-Aligned Movement Summit is to be held in Azerbaijan in June 2019. Platform should be used for consensus making on spectrum of global issues.
• It should be used as a platform to raise global issues like terrorism, climate change and trade protectionism and others.
• NAM platform can be used to garner support by South-East Asian countries like Vietnam, Malaysia, Indonesia and Philippines against Chinese assertion in South China Sea and related island and border disputes.
• NAM can provide a platform for Afro-Asian cooperation and a strong position for poor African nation to have healthy negotiations with China and US for economic development without compromising the sovereignty of their land.
G-77
• G-77 is the largest intergovernmental organization of developing countries in the United Nations. India is a member of this group. Guyana took over the chairmanship of G-77 in 2020, succeeding Palestine which held the chairmanship in 2019.
Origin and Development
• The G-77 (Group of 77) was founded on June 15, 1964, by 77 developing nations. They were the original signatories of the "Joint Declaration of the Seventy-Seven countries" declared at the end of the first session of the United Nations Conference on Trade and Development (UNCTAD) in Geneva.
• The first meeting of the G-77 was conducted at Algiers in 1967, where the historic Charter of Algiers was formally adopted. From that point on the G-77's institutional structure evolved into a more permanent form. More chapters of the G-77 would be subsequently created in the following years. They were as follows:
Rome (FAO)
Vienna (UNIDO)
Paris (UNESCO)
Nairobi (UNEP)
G-24 in Washington D.C (IMF and World Bank)
• Although the membership of the G-77 has increased to 133 countries, the original name has been retained because of its historic significance.
Objectives of the G-77
• The main aims of the G-77 are to ensure that the developing world's collective interests are safeguarded along with the enhancements of its negotiation capabilities in the wider United Nations system and other international forums.
• An additional aim is also to foster good relations between the developing world at large through economic and technical cooperation.